The Future Operational Environment (OE), as described in The Operational Environment and the Changing Character of Future Warfare , brings with it an inexorable series of movements which lead us to consider the following critical question:
What do these issues mean for the nature and character of warfare?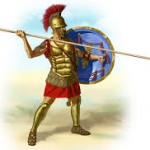 The nature of war, which has remained relatively constant from Thucydides, through Clausewitz, through the Cold War, and on into the present, certainly remains constant through the Era of Accelerated Human Progress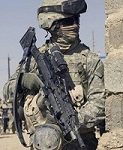 (i.e., now through 2035). War is still waged because of fear, honor, and interest, and remains an expression of politics by other means. However, as we move into the Era of Contested Equality (i.e., 2035-2050), the character of warfare has changed in several key areas: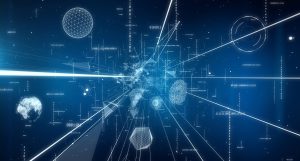 • The Moral and Cognitive Dimensions are Ascendant.
The proliferation of high technology, coupled with the speed of human interaction and pervasive connectivity, means that no one nation will have an absolute strategic advantage in capabilities. When breakthroughs occur, the advantages they confer will be fleeting, as rivals quickly adapt. Under such conditions, the physical dimension of warfare may become less important than the cognitive and the moral. As a result, there will be less self-imposed restrictions by some powers on the use of military force, and hybrid strategies involving information operations, direct cyber-attacks against individuals and segments of populations, or national infrastructure, terrorism, the use of proxies, and Weapons of Mass Destruction (WMD) will aim to prevail against an enemy's will.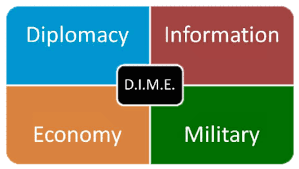 • Integration across Diplomacy, Information, Military, and Economic (DIME).
Clausewitz's timeless dictum that war is policy by other means takes on a new importance as the distance between war and policy recedes; but also must take into account other elements of national power to form true whole-of-government and, when possible, collective security approaches to national security issues. The interrelationship across the DIME will require a closer integration across all elements of government, and Joint decision-making bodies will need to quickly and effectively deliver DIME effects across the physical, the cognitive, and moral dimensions. Military operations are an essential element of this equation, but may not necessarily be the decisive means of achieving an end state.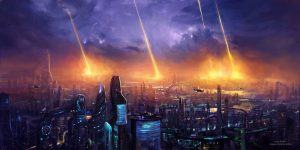 • Limitations of Military Force.
While mid-Century militaries will have more capability than at any time in history, their ability to wage high-intensity conflict will become more limited. Force-on-force conflict will be so destructive, will be waged at the new speed of human and AI-enhanced interaction, and will occur at such extended long-ranges that exquisitely trained and equipped forces facing a peer or near-peer rival will rapidly suffer significant losses in manpower and equipment that will be difficult to replace. Robotics, unmanned vehicles, and man-machine teaming activities offer partial solutions, but warfare will still revolve around increasingly vulnerable human beings. Military forces will need to consider how advances in AI, bio-engineering, man-machine interface, neuro-implanted knowledge, and other areas of enhanced human performance and learning can quickly help reduce the long lead time in training and developing personnel.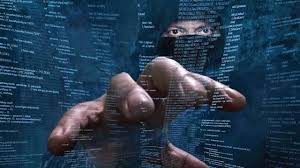 • The Primacy of Information.
In the timeless struggle between offense and defense, information will become the most important and most useful tool at all levels of warfare. The ability of an actor to use information to target the enemy's will, without necessarily having to address its means will increasingly be possible. In the past, nations have tried to target an enemy's will through kinetic attacks on its means – the enemy military – or through the direct targeting of the will by attacking the national infrastructure or a national populace itself. Sophisticated, nuanced information operations, taking advantage of an ability to directly target an affected audience through cyber operations or other forms of influence operations, and reinforced by a credible capable armed force can bend an adversary's will before battle is joined.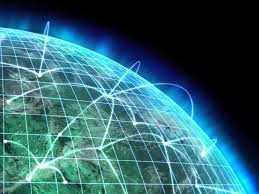 • Expansion of the Battle Area.
Nations, non-state actors, and even individuals will be able to target military forces and civilian infrastructure at increasing – often over intercontinental – ranges using a host of conventional and unconventional means. A force deploying to a combat zone will be vulnerable from the individual soldier's personal residence, to his or her installation, and during his or her entire deployment. Adversaries also will have the ability to target or hold at risk non-military infrastructure and even populations with increasingly sophisticated, nuanced and destructive capabilities, including WMD, hypersonic conventional weapons, and perhaps most critically, cyber weapons and information warfare. WMD will not be the only threat capable of directly targeting and even destroying a society, as cyber and information can directly target infrastructure, banking, food supplies, power, and general ways of life. Limited wars focusing on a limited area of operations waged between peers or near-peer adversaries will become more dangerous as adversaries will have an unprecedented capability to broaden their attacks to their enemy's homeland. The U.S. Homeland likely will not avoid the effects of warfare and will be vulnerable in at least eight areas.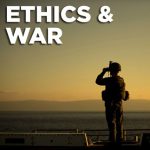 • Ethics of Warfare Shift.
Traditional norms of warfare, definitions of combatants and non-combatants, and even what constitutes military action or national casus belli will be turned upside down and remain in flux at all levels of warfare.


– Does cyber activity, or information operations aimed at influencing national policy, rise to the level of warfare?
– Is using cyber capabilities to target a national infrastructure legal, if it has broad societal impacts?
– Can one target an electric grid that supports a civilian hospital, but also powers a military base a continent away from the battle zone from which unmanned systems are controlled?
– What is the threshold for WMD use?
– Is the use of autonomous robots against human soldiers legal?
These and other questions will arise, and likely will be answered differently by individual actors.
The changes in the character of war by mid-Century will be pronounced, and are directly related and traceable to our present. The natural progression of the changes in the character of war may be a change in the nature of war, perhaps towards the end of the Era of Contested Equality or in the second half of the Twenty First Century.
For additional information, watch the TRADOC G-2 Operational Environment Enterprise's The Changing Character of Future Warfare video.