[Editor's Note:  Army Mad Scientist is pleased to present our latest episode of The Convergence podcast, with the next installment of our series on How They Fight.  This episode features Subject Matter Experts (SMEs) from the TRADOC G-2, Blue Path Labs, Center for New American Security (CNAS), CNA, and VAST-OSINT discussing How China Fights, exploring how our pacing threat conducts intelligentized warfare, maneuver, fires, information operations, cyber, and more!  China's global ambitions and increasing assertiveness, combined with its warfighting modernization efforts spanning materiel, organization, training, and personnel capabilities will enable them to contest us across all domains in Competition, Crisis, and Conflict.  Read on (and listen!) to learn how our most technologically sophisticated adversary fights!]
[If the podcast dashboard is not rendering correctly for you, please click here to listen to the podcast.]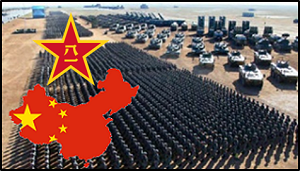 Over the past two decades, China has transformed its People's Liberation Army (PLA) through a holistic approach — modernizing its weaponry, force structure, and approaches to warfare, to include operations in the cyber and space domains, while improving its professional military education. Although Russia remains a near-peer threat, China has ascended to become the United States' lone pacing threat. The PLA's momentous progress in warfighting capabilities and concepts, coupled with its whole-of-nation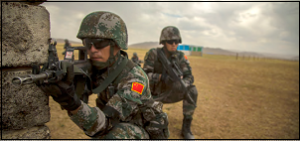 approach to competition, crisis, and conflict, enables it to challenge the United States across all domains and the Diplomatic, Information, Military, and Economic spheres.
Army Mad Scientist interviewed the seven world-class SMEs regarding our near peer threat to learn How China Fights: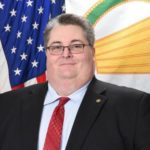 Ian Sullivan serves as the Senior Advisor for Analysis and ISR to the Deputy Chief of Staff, G-2, at the U.S. Army Training and Doctrine Command (TRADOC G2). He is responsible for the analysis that defines and the narrative that explains the Army's Operational Environment, which supports integration across doctrine, organization, training, materiel, leadership and education, personnel, facilities, and policy.  Mr. Sullivan is a frequent and valued contributor to the Mad Scientist Laboratory, including the previous episode in this series, How Russia Fights.
Peter Wood is a program manager and defense analyst at Blue Path Labs, a strategic advisory firm. He previously edited China Brief, a publication of the Jamestown Foundation. He has an M.A. from the Hopkins-Nanjing Center for Chinese and American Studies (HNC) and a B.A. in Political Science from Texas Tech University. He is proficient in Chinese.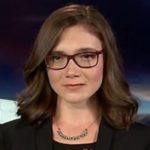 Elsa B. Kania  is an Adjunct Senior Fellow with the Technology and National Security Program at CNAS. Her research focuses on Chinese military strategy, military innovation, and emerging technologies. Her book, Fighting to Innovate, should be forthcoming with the Naval Institute Press in 2022.  At CNAS, Ms. Kania has contributed to the Artificial Intelligence and Global Security Initiative and the "Securing Our 5G Future" program, while acting as a member of the Digital Freedom Forum and the research team for the Task Force on Artificial Intelligence and National Security.  Ms. Kania is a Ph.D. candidate in Harvard University's Department of Government. She is also a graduate of Harvard College and has received a Master of Arts in Government from Harvard University. Ms. Kania was a Boren Scholar in Beijing, China, and she maintains professional proficiency in Mandarin Chinese. She is a proclaimed Mad Scientist and valued contributor to the Mad Scientist Laboratory.

Kevin Pollpeter is a research scientist in the CNA China Studies Division. He is an internationally recognized expert on China's space program and is widely published on Chinese national security issues, focusing on Chinese military modernization, China's defense industry, and Chinese views on information warfare. His publications include China Dream, Space Dream: China's Progress in Space Technologies and Implications for the United States; Planning for Innovation: Understanding China's Plans for Technological, Energy, Industrial, and Defense Development; and "Chinese Writings on Cyberwarfare and Coercion," in China and Cybersecurity: Espionage, Strategy, and Politics in the Digital Domain. A Chinese linguist, he holds an M.A. in international policy studies from the Monterey Institute of International Studies and is currently enrolled in a Ph.D. program at King's College London.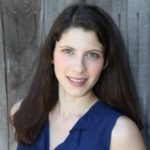 Dr. Amanda Kerrigan is a Research Scientist in the China and Indo-Pacific Security Affairs Division at CNA, where her research has focused on Chinese developments in artificial intelligence (AI) and Chinese media responses to U.S. military operations and activities worldwide. Dr. Kerrigan holds a Ph.D. in China Studies from Johns Hopkins University School of Advanced International Studies, a Master's degree in Chinese Politics and Diplomacy from Fudan University in Shanghai, and a Bachelor's degree in Asian Studies from Georgetown University. She was a Fulbright Fellow in China from 2015-2016, studying protest and violence in China's health care system. Fluent in Chinese, she spent four years living between mainland China and Taiwan. Her previous professional experiences include working in the China Practice at the Albright Stonebridge Group and with Johns Hopkins Medicine International.
Doowan Lee is CEO and co-founder of VAST-OSINT, an AI startup.  He builds data analytic tools to expose and analyze the provenance of disinformation and adversarial information operations by enriching and visualizing cyber data for content authentication.  He is also a senior advisor to the Institute for Security and Technology (IST) and adjunct professor of politics at the University of San Francisco.  He leverages emerging AI technologies to empower open society and support national security.   He specializes in disinformation analysis and great power competition in the Information Environment.  Before founding VAST-OSINT, he taught at the Naval Postgraduate School for more than eleven years as a faculty member and principal investigator. He was also featured in a previous podcast episode, Disinformation, Revisionism, and China.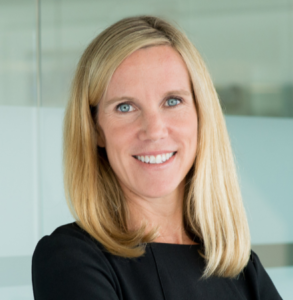 Andrea Kendall-Taylor is a Senior Fellow and Director of the Transatlantic Security Program at CNAS. She works on national security challenges facing the United States and Europe, focusing on Russia, authoritarianism and threats to democracy, and the state of the Transatlantic alliance. Prior to joining CNAS, Ms. Kendall-Taylor served for eight years as a senior intelligence officer. From 2015 to 2018, she was Deputy National Intelligence Officer for Russia and Eurasia at the National Intelligence Council (NIC) in the ODNI.  Prior to joining the NIC, Ms. Kendall-Taylor was a senior analyst at the CIA where she worked on Russia and Eurasia, the political dynamics of autocracies, and democratic decline.  Ms. Kendall-Taylor is an adjunct professor at Georgetown University's School of Foreign Service.  Ms. Kendall-Taylor was also featured in the previous episode, How Russia Fights.
In our interview with the aforementioned SMEs, we explore How China Fights, to include intelligentized warfare, maneuver, fires, information operations, cyber, and more!  The following bullet points highlight key insights from our interview: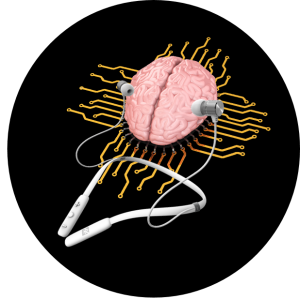 Stay tuned to the Mad Scientist Laboratory for our next episode of The Convergence podcast "Through Soldiers' Eyes: The Future of Ground Combat," featuring subject matter experts — military analysts, combat veterans, and combat reporters — discussing their experiences in modern warfare at the "bleeding edge" of battle, the future of conflict, and the requirements and challenges facing future ground warfighters.
Learn more about China as our Pacing Threat in the following TRADOC G-2 content:
ATP 7-100.3, Chinese Tactics; People's Liberation Army Ground Forces Quick Reference Guide; China Trifold; the China products page; and information on PLA weapon systems accessed via the Worldwide Equipment Guide (WEG) on the OE Data Integration Network (ODIN).
… explore the following Mad Scientist Laboratory China content:
The Operational Environment (2021-2030): Great Power Competition, Crisis, and Conflict, along with its source document
China's PLA Modernization through the DOTMLPF-P Lens, by Dr. Jacob Barton
"Intelligentization" and a Chinese Vision of Future War
Competition and Conflict in the Next Decade
Disrupting the "Chinese Dream" – Eight Insights on how to win the Competition with China
Competition in 2035: Anticipating Chinese Exploitation of Operational Environments
Disinformation, Revisionism, and China with Doowan Lee and associated podcast
China and Russia: Achieving Decision Dominance and Information Advantage, by Ian Sullivan
The PLA and UAVs – Automating the Battlefield and Enhancing Training
A Chinese Perspective on Future Urban Unmanned Operations
China: "New Concepts" in Unmanned Combat and Cyber and Electronic Warfare
The PLA: Close Combat in the Information Age and the "Blade of Victory"
… and check out the following additional content on China:
China's Military Civil Fusion Strategy:  A View from Chinese Strategists, by Alex Stone and Peter Wood
People's Liberation Army: Army Campaign Doctrine in Transition by Kevin McCauley
THE PLA BEYOND BORDERS Chinese Military Operations in Regional and Global Context, edited by Joel Wuthnow, Arthur S. Ding, Phillip C. Saunders, Andrew Scobell, and Andrew N.D. Yang
Deciphering the PLA's New Joint Doctrine: A Conversation with Dr. David Finkelstein, a podcast by our colleagues at the China Power Project at the Center for Strategic and International Studies (CSIS)
>>> REMINDER:  Army Mad Scientist Fall / Winter Writing Contest: Crowdsourcing is an effective tool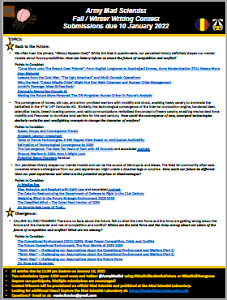 for harvesting ideas, thoughts, and concepts from a wide variety of interested individuals, helping to diversify thought and challenge conventional assumptions. Army Mad Scientist seeks to crowdsource the intellect of the Nation (You!) with our Fall / Winter Writing Contest's two themes — Back to the Future and Divergence – check out the associated writing prompts in the contest flyer and announcement, then get busy crafting your submissions — entries will be accepted in two formats:
Written essay (no more than 1500 words, please!)
Tweet @ArmyMadSci, using either #MadSciBacktotheFuture or #MadSciDivergence
We will pick a winner from each of these two formats!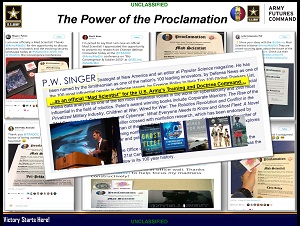 Contest Winners will be proclaimed official Mad Scientists and be featured in the Mad Scientist Laboratory.  Semi-finalists of merit will also be published!
DEADLINE: All entries are due NLT 11:59 pm Eastern on January 10, 2022!
Any questions? Don't hesitate to reach out to us — send us an eMail at: madscitradoc@gmail.com
Disclaimer: The views expressed in this blog post do not necessarily reflect those of the Department of Defense, Department of the Army, Army Futures Command (AFC), or Training and Doctrine Command (TRADOC).