[Editor's Note:  Army Mad Scientist is pleased to feature our latest episode of The Convergence podcast, introducing our new series — How They Fight. This first episode features Subject Matter Experts (SMEs) from the TRADOC G-2, Georgetown University's Center for Security and Emerging Technology, CNA, and Center for a New American Security discussing How Russia Fights, their use of unmanned and autonomous systems, maneuver warfare, special operations, cyber warfare, information operations, proxy forces, and more!  Given Russia's recent military activities in Syria, Libya, Crimea, and the Donbass region of Ukraine; lessons learned from the recently concluded ZAPAD 21 major military exercise; and witnessing their current buildup of forces along their frontier with Ukraine; today's informative post and podcast explores this near-peer threat's military and Information Confrontation capabilities and how they could effectively wield them to achieve their political objectives.  Beware — today's Russian military is not the anemic post-Soviet force of the 1990s and early 2000s! (Please note that this podcast and several of the embedded links below are best accessed via a non-DoD network due to network priorities for teleworking)]

[If the podcast dashboard is not rendering correctly for you, please click here to listen to the podcast.]
Russia is a formidable adversary that is currently undergoing transformative modernization.  Its combat proficient force has inculcated lessons learned from recent combat operations in Syria, Crimea, and eastern Ukraine; selectively invested in niche capabilities (e.g., autonomy, robotics, and artificial intelligence) to add precision strike to its already formidable fires, enhance decision making, augment combined arms formations and logistics support, and safeguard its Soldiers; and professionalized to a more balanced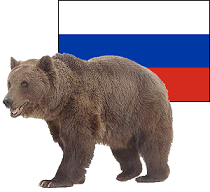 ratio of contract to conscript Soldiers.  A master of information confrontation, Russia employs cyber, information operations, and disinformation to offset any conventional force asymmetries.  Above all, Russia remains a persistent, vice a declining power!
Army Mad Scientist interviewed the following four world-class SMEs about our near peer threat to learn How Russia Fights:
Ian Sullivan serves as the Senior Advisor for Analysis and ISR to the Deputy Chief of Staff, G-2, at the U.S. Army Training and Doctrine Command (TRADOC G2). This is a Tier One Defense Intelligence Senior Level (DISL) position. He is responsible for the analysis that defines and the narrative that explains the Army's Operational Environment, which supports integration across doctrine, organization, training, materiel, leadership and education, personnel, facilities, and policy. Mr. Sullivan is a career civilian intelligence officer, who has served with the Office of Naval Intelligence (ONI); Headquarters, U.S. Army Europe and Seventh Army, Deputy Chief of Staff, G-2 (USAREUR G2); and as an Office of the Director of National Intelligence (ODNI) cadre member at the National Counterterrorism Center (NCTC). Prior to assuming his position at the TRADOC G2, Mr. Sullivan led a joint NCTC Directorate of Intelligence (DI)/Central Intelligence Agency (CIA), Counterterrorism Mission Center (CTMC) unit responsible for WMD terrorism issues, where he provided direct intelligence support to the White House, senior policymakers, Congress, and other senior customers throughout the Government. He was promoted into the Senior Executive ranks in June 2013 as a member of the ODNI's Senior National Intelligence Service, and transferred to the Army as a DISL in January, 2017. Mr. Sullivan is also a frequent and valued contributor to the Mad Scientist Laboratory.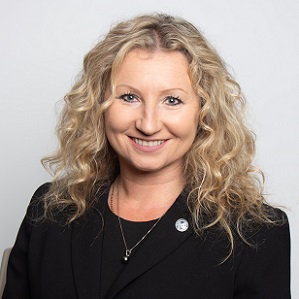 Katerina Sedova is a Research Fellow at Georgetown's Center for Security and Emerging Technology (CSET), where she works on the CyberAI Project. Most recently, she advised SEN Maggie Hassan on cybersecurity and technology policy issues and drafted key legislation as a TechCongress fellow with the Senate Homeland Security and Governmental Affairs Committee. Previously, she published research and advised projects on disinformation, state-sponsored information operations and OSINT for the NATO Strategic Communications Center of Excellence, the Department of State, and the Department of Defense. She started her career at Microsoft, where she led engineering teams in the security, networking, and performance components of the internet browsing platform. She was named as an inventor on multiple patents awarded to Microsoft.  Ms. Sedova is a proclaimed Mad Scientist, having participated in our AI Speeding up Disinformation panel discussion during the Mad Scientist Weaponized Information Series of Virtual Events last year.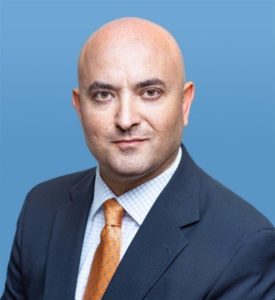 Sam Bendett is an Adviser with CNA's Strategy, Policy, Plans and Programs Center (SP3), where he is a member of the Russia Studies Program. He is also an Adjunct Senior Fellow at the Center for a New American Security (CNAS). His work involves research on the Russian defense and technology developments, unmanned and autonomous military systems and AI, as well as Russian military capabilities and decision-making during crises. He is a Member of CNA's Center for Autonomy and Artificial Intelligence, and a proclaimed Mad Scientist, having contributed multiple insightful blog posts to the Mad Scientist Laboratory, and presented informative topics during a number of Army Mad Scientist webinars and conferences. He is also a Russian military autonomy and AI SME for the DoD's Defense Systems Information Analysis Center.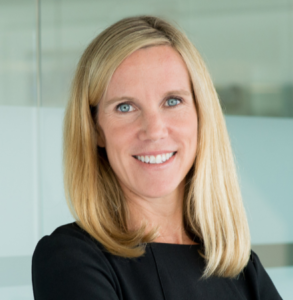 Andrea Kendall-Taylor is a Senior Fellow and Director of the Transatlantic Security Program at the CNAS. She works on national security challenges facing the United States and Europe, focusing on Russia, authoritarianism and threats to democracy, and the state of the Transatlantic alliance. Prior to joining CNAS, Ms. Kendall-Taylor served for eight years as a senior intelligence officer. From 2015 to 2018, she was Deputy National Intelligence Officer for Russia and Eurasia at the National Intelligence Council (NIC) in the ODNI. In this role, Ms. Kendall-Taylor led the U.S. Intelligence Community (IC) strategic analysis on Russia, represented the IC in interagency policy meetings, provided analysis to the National Security Council, and briefed the DNI and other senior staff for White House and international meetings. Prior to joining the NIC, Ms. Kendall-Taylor was a senior analyst at the CIA where she worked on Russia and Eurasia, the political dynamics of autocracies, and democratic decline.  Ms. Kendall-Taylor is an adjunct professor at Georgetown University's School of Foreign Service.
In our interview with the aforementioned SMEs, we explore how Russia fights, addressing unmanned and autonomous systems, maneuver warfare, special operations, cyber warfare, information operations, proxy forces, and more!  The following bullet points highlight key insights from our interview:
Despite popular discourse casting Russia as a declining power, the Russian military remains a near-peer competitor with significant capabilities in competition, crisis, and conflict. Russia's military continues to undergo a transformative modernization effort, learning from its extensive combat experience in Chechnya, Dagestan, Georgia, Crimea, Syria, Libya, and eastern Ukraine.
The United States cannot simply cast Russia as a declining power and pivot its focus away from the nation entirely. Instead, the U.S. military should continue to monitor Russian military modernization and strategy.
The Russian military continues to develop and implement an advanced force of autonomous and robotic systems supported by AI. This technology will be tested and adopted to enhance decision-making and safeguard Soldier's lives, ultimately making Russian operations more effective. The deployment of this technology will represent a long-term, transformative change for the Russian military.
Russia will continue to pursue dominance in information operations. These comparatively inexpensive "grey zone" tactics will seek to fracture liberal alliances, influence elections, undermine trust in democratic institutions, and weaponize ambiguity and uncertainty. Even if operations are ultimately discovered, they may still succeed by casting the target as vulnerable and elevating the perceived capabilities of the Russian attackers.
Russia will continue seeking to "win without fighting" by implementing rapid military operations immediately followed by offers for a diplomatic resolution. Such tactics prevent U.S. military mobilization and force the United States to choose between accepting Russian solutions or purposefully escalating conflict.
Russia is seeking to develop advanced autonomous systems to increase its intelligence, surveillance, and reconnaissance (ISR) capabilities. These systems will increase the precision of Russian reconnaissance-fire complexes, enhancing Russia's ability to dominate enemies via firepower.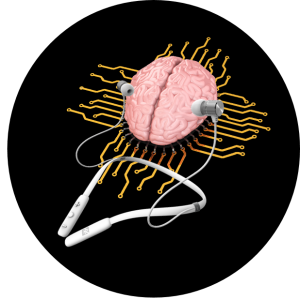 Stay tuned to the Mad Scientist Laboratory for our next episode of The Convergence podcast featuring SMEs from CNA, CNAS, Georgetown University's CSET, and TRADOC G-2 discussing our pacing threat and exploring How China Fights, to include intelligentized warfare, maneuver, fires, information operations, cyber, and more!
If you enjoyed this post,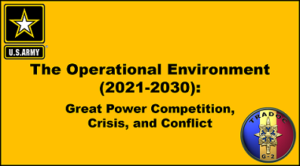 download and learn more about Russia as our near-peer threat on pages 9 and 10 in The Operational Environment (2021-2030): Great Power Competition, Crisis, and Conflict here.
… then explore the following related Russia content:
TRADOC G-2's Russia Products Page is chockablock with essential open source references on the Russian Threat
The Bear is Still There: Four Insights on Competition with Russia
China and Russia: Achieving Decision Dominance and Information Advantage, Would You Like to Play a Game? Wargaming as a Learning Experience and Key Assumptions Check, and Contagion: COVID-19's impact on the Operational Environment (Part 4), by Ian Sullivan
Insights from the Mad Scientist Weaponized Information Series of Virtual Events;
Weaponized Information: One Possible Vignette
Three Best Information Warfare Vignettes
Insights from the Robotics and Autonomy Series of Virtual Events, as well as all of the associated webinar content (presenter biographies, slide decks, and notes) and associated videos [via a non-DoD network]
Major Trends in Russian Military Unmanned Systems Development for the Next Decade, Russian Ground Battlefield Robots: A Candid Evaluation and Ways Forward, and Autonomous Robotic Systems in the Russian Ground Forces, by proclaimed Mad Scientist Sam Bendett
From Singalongs to Spheres of Influence: How Russia Exports Patriotic Military Education to Post-Soviet Youth by proclaimed Mad Scientist Amelia Larson, in Through the Eyes of Gen Z: National Security Challenges and Solutions for the 21st Century
Russia: Our Current Pacing Threat
Russian Private Military Companies: Their Use and How to Consider Them in Operations, Competition, and Conflict
>>>> REMINDER:  Army Mad Scientist Fall / Winter Writing Contest: Crowdsourcing is an effective tool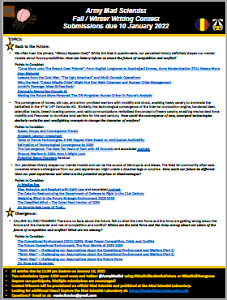 for harvesting ideas, thoughts, and concepts from a wide variety of interested individuals, helping to diversify thought and challenge conventional assumptions. Army Mad Scientist seeks to crowdsource the intellect of the Nation (You!) with our Fall / Winter Writing Contest's two themes — Back to the Future and Divergence – check out the associated writing prompts in the contest flyer and announcement, then get busy crafting your submissions — entries will be accepted in two formats:
Written essay (no more than 1500 words, please!)
Tweet @ArmyMadSci, using either #MadSciBacktotheFuture or #MadSciDivergence
We will pick a winner from each of these two formats!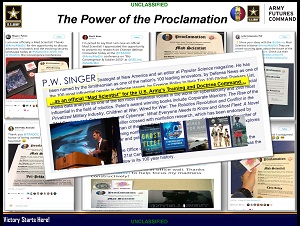 Contest Winners will be proclaimed official Mad Scientists and be featured in the Mad Scientist Laboratory.  Semi-finalists of merit will also be published!
DEADLINE: All entries are due NLT 11:59 pm Eastern on January 10, 2022!
Any questions? Don't hesitate to reach out to us — send us an eMail at: madscitradoc@gmail.com
Disclaimer: The views expressed in this blog post do not necessarily reflect those of the Department of Defense, Department of the Army, Army Cyber Institute, the U.S. Military Academy, Army Futures Command (AFC), or U.S. Army Training and Doctrine Command (TRADOC).