[Editor's Note:  Given the West's continuing focus on blunting China's global ambitions, Army Mad Scientist is pleased to feature again last year's episode of "The Convergence" podcast with Mr. Doowan Lee.  Mr. Lee's insights regarding disinformation, changes over time in approaches to information warfare, and revisionism and the Chinese Communist Party (CCP) are just as relevant today as they were when we first featured them last October.  Please note that this podcast and several of the embedded links below are best accessed via a non-DoD network due to network priorities for teleworking — Enjoy!]
[If the podcast dashboard is not rendering correctly for you, please click here to listen to the podcast]
Today's episode of "The Convergence" podcast features our conversation with Mr. Doowan Lee, CEO and co-founder of VAST-OSINT, an AI startup.  He builds data analytic tools to expose and analyze the provenance of disinformation and adversarial information operations by enriching and visualizing cyber data for content authentication.  He is also a senior advisor to the Institute for Security and Technology (IST) and adjunct professor of politics at the University of San Francisco.  He leverages emerging AI technologies to empower open society and support national security.   He specializes in disinformation analysis and great power competition in the Information Environment.
Before founding VAST-OSINT, he taught at the Naval Postgraduate School for more than eleven years as a faculty member and principal investigator. There he developed and executed operational and communications technology projects with federal R&D agencies to support the U.S. Government's efforts to combat violent extremist networks and authoritarian regimes. In particular, he has closely worked with the U.S. Special Operations community to support overseas operations. Central to this work is a focus on how extremists and authoritarian regimes exploit social media and emerging technologies to subvert economic and political stability.
The following bullet points highlight key insights from our interview with Mr. Lee:
Our adversaries see disinformation as just an effective tool that provides strategic and global reach. We see it as irregular warfare when it is anything but irregular.
Disinformation, or the historical term propaganda, has been around forever. COVID-19 has accentuated this threat vector or surface.
– Nations talking about the spread of open societies are attempting to undermine the CCP.
– The CCP will maintain positive control of all media.
– The CCP will professionalize information operations.
This policy resulted in the development of the "Great Firewall," the "Golden Shield" project, and the PLA's Strategic Support Forces.
The CCP and the Kremlin are increasing their coordination on national security activities and, in some cases, are increasing their collaboration. This resulted in a joint statement that stated the two governments would

work together

to undermine disinformation that seeks to destabilize the Russian and Chinese governments.
How is our Great Competition strategy working to prevent Chinese and Russian collaboration?
Slaughtering the "Golden Calf"
– Information Operations are not irregular warfare. DROP THE ADJECTIVE! There is nothing irregular about these operations and they are probably the most regular or everyday form of competition we face.
– Embrace our doctrine. We are not using our tools such as international or bilateral exercises for advantage, while our adversaries are using these exercises, oftentimes in the same contested space, to their information advantage.
– Stop trying to make perfect decisions. Instead, work to perfect decision making using rapid experimentation, learning, and implementation.
When engaging the younger generations, we need to discuss data and civil liberties, the philosophy of science or acquiring knowledge, ethics, and critical thinking.
What keeps me up at night? Technologies that create strategic latency between offense and defense. Deep fakes is one of these technologies. It has a high first mover advantage and identification tools do not prevent them from getting into the "wild" and impacting our society.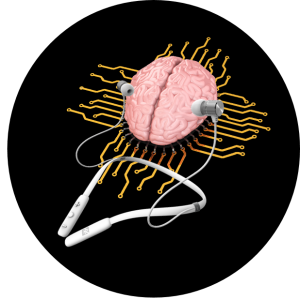 Stay tuned to the Mad Scientist Laboratory for our next podcast with Robin Champ, Chief, Enterprise Strategy Division, U.S. Secret Service, discussing women leading in national security, empowering diversity to think about the future, and how emerging technologies and trends will affect Secret Service missions on 2 September 2021!
If you enjoyed this post and episode, read these related "The Convergence" blog posts and listen to the associated podcasts:

The Convergence: The Next Iteration of Warfare with Lisa Kaplan and the associated podcast
The Convergence: True Lies – The Fight Against Disinformation with Cindy Otis and the associated podcast
The Convergence: Political Tribalism and Cultural Disinformation with Samantha North and the associated podcast
The Convergence: Hybrid Threats and Liminal Warfare with Dr. David Kilcullen and the associated podcast
… explore the following China content:
China: Our Emergent Pacing Threat
Competition and Conflict in the Next Decade
Disrupting the "Chinese Dream" – Eight Insights on how to win the Competition with China
China: "New Concepts" in Unmanned Combat and Cyber and Electronic Warfare
The PLA: Close Combat in the Information Age and the "Blade of Victory"
"Intelligentization" and a Chinese Vision of Future War
Competition in 2035: Anticipating Chinese Exploitation of Operational Environments
ATP 7-100.3, Chinese Tactics; TRADOC G-2's China Tri-fold; the China products page; and information on PLA weapon systems accessed via the Worldwide Equipment Guide (WEG) on the OE Data Integration Network (ODIN).
… and check out the following Information Warfare content:
The Future of War is Cyber! by CPT Casey Igo and CPT Christian Turley and A House Divided: Microtargeting and the next Great American Threat, by 1LT Carlin Keally, two semi-finalists from our Mad Scientist Writing Contest on the 4C's: Competition, Crisis, Conflict, and Change
Weaponized Information: What We've Learned So Far…, Insights from the Mad Scientist Weaponized Information Series of Virtual Events and all of this series' associated content and videos [access via a non-DoD network]
Weaponized Information: One Possible Vignette and Three Best Information Warfare Vignettes
Sub-threshold Maneuver and the Flanking of U.S. National Security, by Dr. Russell Glenn
The Erosion of National Will – Implications for the Future Strategist, by Dr. Nick Marsella