[Editor's Note:  In today's post, Mad Scientist Laboratory explores China's whole-of-nation approach to exploiting operational environments, synchronizing government, military, and industry activities to change geostrategic power paradigms via competition in 2035. Excerpted from products previously developed and published by the TRADOC G-2's Operational Environment and Threat Analysis Directorate (see links below), this post describes China's approach to exploitation and identifies the implications for the U.S. Army — Enjoy!]
The Operational Environment is envisioned as a continuum, divided into two eras: the Era of Accelerated Human Progress (now through 2035) and the Era of Contested Equality (2035 through 2050). This latter era is marked by significant breakthroughs in technology and convergences in terms of capabilities, which lead to significant changes in the character of warfare. During this period, traditional aspects of warfare undergo dramatic, almost revolutionary changes which at the end of this timeframe may even challenge the very nature of warfare itself. In this era, no one actor is likely to have any long-term strategic or technological advantage, with aggregate power between the U.S. and its strategic competitors being equivalent, but not necessarily symmetric. Prevailing in this period will depend on an ability to
synchronize multi-domain capabilities against an artificial intelligence-enhanced adversary with an overarching capability to visualize and understand the battlespace at even greater ranges and velocities. Equally important will be controlling information and the narrative surrounding the conflict. Adversaries will adopt sophisticated information operations and narrative strategies to change the context of the conflict and thus defeat U.S. political will.
The future strategic environment will be characterized by a persistent state of competition where global competitors seek to exploit the conditions of operational environments to gain advantage. Adversaries understand that the application of any or all elements of national power in competition just below the threshold of armed conflict is an effective strategy against the U.S.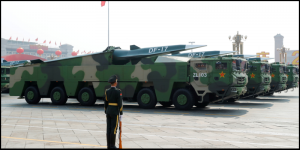 China is rapidly modernizing its armed forces and developing new approaches to warfare. Beijing has invested significant resources into research and development of a wide array of advanced technologies. Coupled with its time-honored practice of reverse engineering technologies or systems it purchases or acquires through espionage, this effort likely will allow China to surpass Russia as our most capable threat sometime around 2030.
China's Approach to Exploitation
China's whole-of-nation approach, which involves synchronization of actions across government, military, and industry, will facilitate exploitation of operational environments and enable it to gain global influence through economic exploitation.
China will leverage the international system to advance its own interests while attempting to constrain others, including the U.S.
Preferred Conditions and Methods
The following conditions and methods are conducive to exploitation by China, enabling them to shape the strategic environment in 2035:
Interconnected Economies:  China looks for partners and opportunities to become a significant stakeholder in a wide variety of economies in order to capitalize on its investments as well as generate political influence.
Specialized Economies:  China looks for opportunities to partner with specialized markets and leverage their vulnerabilities for gain.
Technology Access Gaps:  China targets areas where their capital investments in technology provide partners with key resources and competitive advantages by filling technology gaps.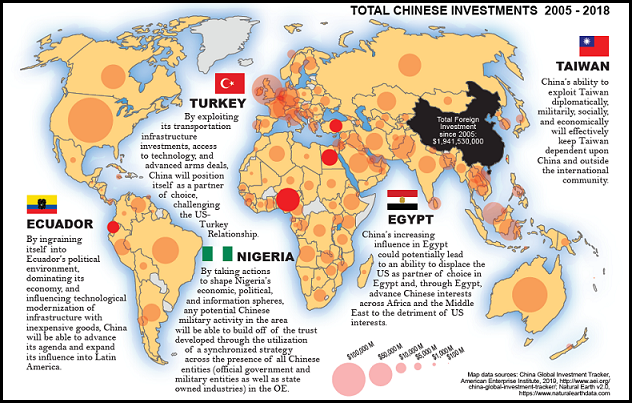 Implications for the U.S. Army:
The Chinese People's Liberation Army (PLA) deployed armored medical vehicles and personnel to Germany for the Combined Aid 2019 Joint Exercise with the Bundeswehr this past summer.

Traditional Army threat paradigms may not be sufficient for competition.
The Army could be drawn into unanticipated escalation as a result of China's activities during the competition phase.
Army military partnerships will likely be undermined by China in 2035.
Army operations and engagements will be increasingly impacted by the pervasiveness of Chinese goods, technology, infrastructure, and systems.
If you enjoyed this post, please see the original paper and associated infographic of the same title, both by the TRADOC G-2's Operational Environment and Threat Analysis Directorate and hosted on their All Partners Access Network (APAN) site…
… and read the following MadSci Laboratory blog posts:
A view of the Future: 2035-2050
China's Drive for Innovation Dominance and Quantum Surprise on the Battlefield?, by Elsa Kania
A Closer Look at China's Strategies for Innovation: Questioning True Intent, by Cindy Hurst
Critical Projection: Insights from China's Science Fiction, by Lt Col Dave Calder