The Mad Scientist Initiative brings together cutting-edge leaders and thinkers from the technology industry, research laboratories, academia, and across the military and Government to explore the impact of potentially disruptive technologies. Much like Johannes Gutenberg's moveable type (illustrated above), these transformational game changers have the potential to impact how we live, create, think, and prosper. Understanding their individual and convergent impacts is essential to continued battlefield dominance in the Future Operational Environment. In accordance with The Operational Environment and the Changing Character of Future Warfare, we have divided this continuum into two distinct timeframes:
The Era of Accelerated Human Progress (Now through 2035):
The period where our adversaries can take advantage of new technologies, new doctrine, and revised strategic concepts to effectively challenge U.S. military forces across multiple domains. Game changers during this era include:
• Robotics: Forty plus countries develop military robots with some level of autonomy. Impact on society, employment.
Vulnerable: To Cyber/Electromagnetic (EM) disruption, battery life, ethics without man in the loop.
Formats: Unmanned/Autonomous; ground/air vehicles/subsurface/sea systems. Nano-weapons.
Examples: (Air) Hunter/killer Unmanned Aerial Vehicle (UAV) swarms; (Ground) Russian Uran: Recon, ATGMs, SAMs.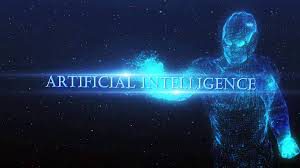 • Artificial Intelligence: Human-Agent Teaming, where humans and intelligent systems work together to achieve either a physical or mental task. The human and the intelligent system will trade-off cognitive and physical loads in a collaborative fashion.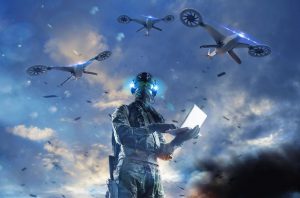 • Swarms/Semi Autonomous: Massed, coordinated, fast, collaborative, small, stand-off. Overwhelm target systems. Mass or disaggregate.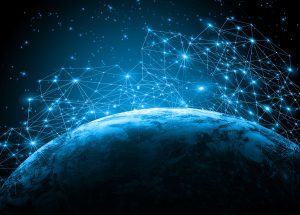 • Internet of Things (IoT): Trillions of internet linked items create opportunities and vulnerabilities. Explosive growth in low Size Weight and Power (SWaP) connected devices (Internet of Battlefield Things), especially for sensor applications (situational awareness). Greater than 100 devices per human. Significant end device processing (sensor analytics, sensor to shooter, supply chain management).
Vulnerable: To Cyber/EM/Power disruption. Privacy concerns regarding location and tracking.
Sensor to shooter: Accelerate kill chain, data processing, and decision-making.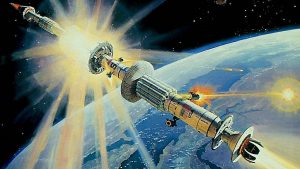 • Space: Over 50 nations operate in space, increasingly congested and difficult to monitor, endanger Positioning, Navigation, and Timing (PNT)
GPS Jamming/Spoofing: Increasingly sophisticated, used successfully in Ukraine.
Anti Satellite: China has tested two direct ascent anti-satellite missiles.

The Era of Contested Equality (2035 through 2050):
The period marked by significant breakthroughs in technology and convergences in terms of capabilities, which lead to significant changes in the character of warfare. During this period, traditional aspects of warfare undergo dramatic, almost revolutionary changes which at the end of this timeframe may even challenge the very nature of warfare itself. Game changers during this era include: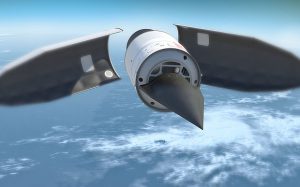 • Hyper Velocity Weapons:
Rail Guns (Electrodynamic Kinetic Energy Weapons): Electromagnetic projectile launchers. High velocity/energy and space (Mach 5 or higher). Not powered by explosive.
No Propellant: Easier to store and handle.
Lower Cost Projectiles: Potentially. Extreme G-force requires sturdy payloads.
Limiting factors: Power. Significant IR signature. Materials science.
Hyper Glide Vehicles: Less susceptible to anti-ballistic missile countermeasures.
• Directed Energy Weapons: Signature not visible without technology, must dwell on target. Power requirements currently problematic.
Potential: Tunable, lethal, and non-lethal.
Laser: Directed energy damages intended target. Targets: Counter Aircraft, UAS, Missiles, Projectiles, Sensors, Swarms.
Radio Frequency (RF): Attack targets across the frequency spectrum. Targets: Not just RF; Microwave weapons "cook targets," people, electronics.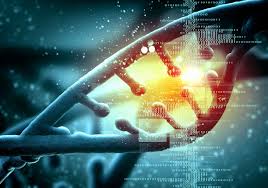 • Synthetic Biology: Engineering / modification of biological entities
Increased Crop Yield: Potential to reduce food scarcity.
Weaponization: Potential for micro-targeting, Seek & destroy microbes that can target DNA. Potentially accessible to super-empowered individuals.
Medical Advances: Enhance soldier survivability.
Genetic Modification: Disease resistant, potentially designer babies and super athletes/soldiers. Synthetic DNA stores digital data. Data can be used for micro-targeting.
CRISPR: Genome editing.
• Information Environment: Use IoT and sensors to harness the flow of information for situational understanding and decision-making advantage.





In envisioning Future Operational Environment possibilities, the Mad Scientist Initiative employs a number of techniques. We have found Crowdsourcing (i.e., the gathering of ideas, thoughts, and concepts from a wide variety of interested individuals assists us in diversifying thoughts and challenging conventional assumptions) to be a particularly effective technique. To that end, we have published our latest, 2-page compendium of Potential Game Changers here — we would like to hear your feedback regarding them. Please let us know your thoughts / observations by posting them in this blog post's Comment box (found below, in the Leave a Reply section). Alternatively, you can also submit them to us via email at: usarmy.jble.tradoc.mbx.army-mad-scientist@mail.mil. Thank you in advance for your contributions!