[Editor's Note:  Army Mad Scientist is pleased to present our latest episode of The Convergence podcast, recorded on location at I/ITSEC 2022, the world's largest modeling and simulation conference in Orlando, Florida.  Co-hosts  Luke Shabro and Matt Santaspirt spoke with proclaimed Mad Scientist Jenny McArdle from the Center for a New American Security, Cmdr. Paul Grøstad from NATO Allied Command Transformation (ACT), and Whitney McNamara from Beacon Global Strategies, about emerging technologies and how they can better prepare us for both competition and conflict — Enjoy!]

[If the podcast dashboard is not rendering correctly for you, please click here to listen to the podcast.]
Jennifer McArdle serves as an Adjunct Senior Fellow in the Center for a New American Security's defense program and wargaming lab and as a Non-Resident Fellow at the Joint Special Operations University. A former professor, Ms. McArdle has served on Congressman Langevin's cyber advisory committee and as an expert member of a NATO technical group that developed cyber effects for the military alliance's mission and campaign simulations. Ms. McArdle is a PhD candidate at King's College London in War Studies, is the recipient of the RADM Fred Lewis (I/ITSEC) doctoral scholarship in modeling and simulation, and is a Certified Modeling and Simulation Professional (CMSP). She is a term member with the Council on Foreign Relations.  Ms. McArdle is also a proclaimed Mad Scientist, having frequently contributed to the Mad Scientist Laboratory blog site and The Convergence podcast.
Cmdr. Paul Grøstad  is Deputy Branch Head for Concept Development at NATO ACT.  A Royal Norwegian Navy officer with 29 years experience in Signals, C4ISR, and Cyber Operations, Cmdr. Grøstad is currently researching Cognitive Warfare, Malign Influence, the Information Environment, and Cognitive Effects. He has extensive international experience from serving in multiple positions at different levels of the NATO command structure.  A Norwegian Naval Academy and Joint Command and Staff College graduate, he holds a Master's degree in military studies from the Norwegian Defence University College and a Bachelor's degree in Information Science from the University of Bergen.  Cmdr. Grøstad is a certified PRINCE2 Practitioner.
Whitney McNamara is an Associate Vice President at Beacon Global Strategies and a Nonresident Senior Fellow at the Center for Strategic and Budgetary Assessments.  She is also currently supporting the Atlantic Council's Commission on Defense Innovation Adoption, where she is the lead author on assessing critical technologies and their barriers to innovation in the Department.  She previously served on the Department of Defense's Defense Innovation Board (DIB), whose mission is to provide the Secretary of Defense, Deputy Secretary of Defense, and other senior leaders across the DoD with independent advice and recommendations on emerging technologies and innovative approaches that the Department should adopt to ensure U.S. technological and military dominance.  Ms. McNamara is a former National Security Fellow at the Woodrow Wilson Center and worked in the Political-Military Bureau at the Department of State and in the Office of the Secretary of Defense for Middle East Policy.  She received her M.A. in Strategic Studies and International Economics from the Johns Hopkins School of Advanced International Studies where she was a Bradley Fellow and a Presidential Management Fellowship Finalist.
In today's podcast, our panel of experts address emerging technologies and how they can better prepare us for both competition and conflict.  The following bullet points highlight key insights from our interview:
The biggest difference in the most recent National Defense Strategy (NDS) is that China is identified as our most consequential strategic competitor, despite Russia's invasion of Ukraine. China, unlike Russia, has the global reach and the capability to reorder the global system, making China the more existential threat. The central premise of the NDS is how to sustain deterrence against China.
China is conducting holistic strategies to achieve their objectives, making it necessary for DoD's strategies to be holistic in nature as well. DoD has identified the need for "integrated deterrence" – seamlessly working across warfighting domains and bringing in other instruments of US national power. "Campaigning" is the way DoD plans to carry out integrated deterrence.
The NDS discusses the role of technology in escalation dynamics, especially in the Cyber and Space Domains, and innovation in national security. It is necessary to figure out how to support and cooperate with our diverse network of research institutions and tech industry to maintain our technological edge.
The NATO Strategic Concept, updated every 10 years, reinforces the key purpose of the Alliance – collective defense. The recent concept recognizes Russia as a threat to Alliance security, a dramatic shift in the language previously used. China remains a challenge for the Alliance, as its malicious hybrid and cyber operations and its confrontational rhetoric and disinformation target Allies and harm Alliance security. However, NATO remains open to constructive engagement with China, including building reciprocal transparency, with a view to safeguarding the Alliance's security interests. NATO remains committed to working together responsibly, as Allies, to address the systemic challenges posed by China to Euro-Atlantic security and ensure NATO's enduring ability to guarantee the defense and security of the Alliance.
The NATO Strategic Concept identified emerging disruptive technology as a growing challenge that is altering the character of conflict and impacting success on the battlefield. Although the concept does not identify any single technology, Artificial Intelligence, Autonomy, and Big Data are seen as the most immediate technologies that can be exploited right now.
"All but war is simulation."  Simulation is integral to both deterrence and readiness. The type of simulation needed depends on the end goal. Simulations can be live, virtual, or constructive:
Live – Real people operating real platforms in a simulated environment.
Virtual – Real people operating a simulated system in a simulated environment.
Constructive – Synthetic entities operating a simulated system in a simulated environment.
Virtual and constructive simulations is where synthetic environments come in. Synthetic environments are crucial to thinking about the future of competition and conflict and simulating multi-domain operations.  The cognitive (i.e., human) dimension is where decisions are made and wars are won and lost. The military often struggles with simulating the human elements of warfare.
The Synthetic Training Environment (STE) is designed to provide a collective, multi-echelon training and mission rehearsal capability for the operational, institutional and self-development training domains / Source: U.S. Army Acquisition Support Center

Synthetic environments are very well suited to promoting integrated deterrence because they allow cross department collaboration and information sharing, show actions are logically linked, provide a collaborative environment to simulate campaigning, and wargame decisions to develop best practices. A synthetic environment can be a holistic platform that allows DoD to game out the complexity it is trying to manage.
People tend to describe the metaverse as a series of interconnected virtual worlds that afford their users a sense of agency and presence — the DoD has used this concept for decades. What's new is that the commercial world is now paying attention, creating commercial applications and fueling innovation that has implications for defense.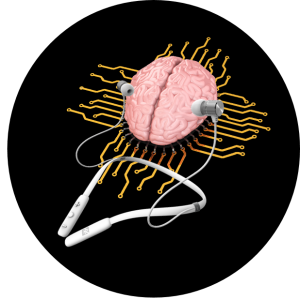 Stay tuned to the Mad Scientist Laboratory for our next episode of The Convergence, recorded on location at I/ITSEC in Orlando, Florida.  We'll be talking with Dr. Maria Kozhevnikov, Associate Professor of Psychology at the National University of Singapore and Visiting Associate Professor of Radiology at Harvard Medical School, about (non-relaxing) meditative states, enhanced cognition, the relationship between video games and reaching that enhanced cognitive state, and much more!
If you enjoyed this post and podcast, check out the following related content:
China Landing Zone content on the TRADOC G-2's Operational Environment Enterprise public facing page — including the BiteSize China weekly topics, ATP 7-100.3, Chinese Tactics, People's Liberation Army Ground Forces Quick Reference Guide, How China Fights and associated podcast, and more!
Russia Landing Zone content on the TRADOC G-2's Operational Environment Enterprise public facing page — including the BiteSize Russia weekly topics, our How Russia Fights 2.0 post and associated podcast , and more!
The Operational Environment (2021-2030): Great Power Competition, Crisis, and Conflict, along with its source document
Insights from Ukraine on the Operational Environment and the Changing Character of Warfare
China: Building Regional Hegemony, by the proclaimed Mad Scientists from AWC's Forecastica Team
Going on the Offensive in the Fight for the Future and associated podcast with former Undersecretary of the Navy (and proclaimed Mad Scientist) James F. "Hondo" Geurts and Dr. Zachary S. Davis, and Strategic Latency Unleashed!
Are We Ready for the Post-digital Hyper-war? by Capt Martin Crilly, British Army
Artificial Intelligence: An Emerging Game-changer
Insights from the Robotics and Autonomy Series of Virtual Events
There Will Be Data, and associated podcast with Dr. Inderpal Bhandari
Using Wargames to Reconceptualize Military Power, by proclaimed Mad Scientist Caroline Duckworth
From Legos to Modular Simulation Architectures: Enabling the Power of Future (War) Play, by proclaimed Mad Scientist Jennifer McArdle and Caitlin Dohrman; and A New American Way of Training and associated podcast with Jennifer McArdle
The Metaverse: Blurring Reality and Digital Lives and associated podcast with Cathy Hackl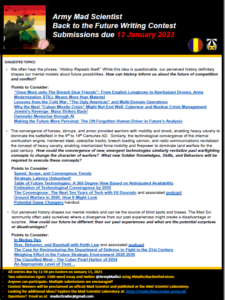 Back to the Future Writing Contest:  Crowdsourcing is an effective tool for harvesting ideas, thoughts, and concepts from a wide variety of interested individuals, helping to diversify thought and challenge conventional assumptions.  Army Mad Scientist seeks to crowdsource the intellect of the Nation (i.e., you — our community of action!) with our Back to the Future Writing Contest.  Entries should address one of the suggested topics listed here.  Entries will be accepted in two formats:
A written essay (no more than 1500 words, please!)
We will pick a winner from each of these two formats! Contest Winners will be proclaimed official Mad Scientists and be featured here in the Mad Scientist Laboratory.  Semi-finalists of merit will also be published!
This contest is open to any and every one — multiple submissions are encouraged!
DEADLINE:  All entries are due NLT 11:59 pm Eastern on January 13, 2023!
Questions?  Send us an eMail at:  madscitradoc@gmail.com
Disclaimer: The views expressed in this blog post and podcast do not necessarily reflect those of the U.S. Department of Defense, Department of the Army, Army Futures Command (AFC), or Training and Doctrine Command (TRADOC).