[Editor's Note:  Army Mad Scientist launched its CALLING ALL CREATORS ~ An Army Mad Scientist Multi-Media Contest on 9 June 2021, seeking to spark and highlight the talents of imaginative artists and showcase their ideas about future Operational Environment (OE) possibilities in diverse and alternative ways. Today's post features the work of one of the contest's semi-finalists, Ed dos Santos, Jr., whose innovative approach addresses the confluence of two major OE themes familiar to our regular readers:
1. The challenges our Soldiers will face in operating in the Dense Urban space. Humans continue to migrate into cities, which now contain almost two-thirds of the world's population.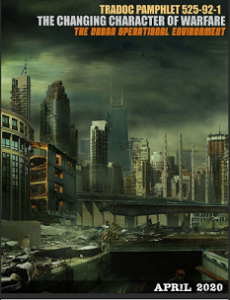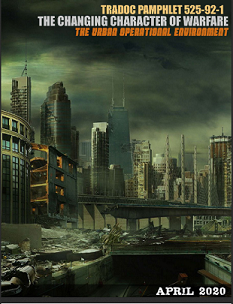 "The U.S. Army faces numerous challenges in our current and near-term future operational environments. None will be more difficult than conducting operations in the world's urban areas." — LTG Theodore Martin, then DCG/CoS, TRADOC, in his Foreword to TRADOC Pamphlet 525-92-1, The Changing Character of Warfare: The Urban Operational Environment, April 2020.
2.  Key in preparing the Army to successfully compete and deter aggressors — or failing that — fight and decisively win on any battlefield is identifying the requisite new Knowledge, Skills, and Behaviors (KSBs) our future Soldiers and Leaders will need.  The pace of change is accelerating with the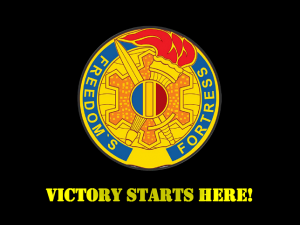 convergence of new and emergent technologies that are driving the changing character of warfare.   Preparing our Soldiers for this new era is one of the toughest challenges the Army will face in the next 25 years.
Mr. dos Santos' submission skillfully visualizes the Soldier Evaluations of five future Warfighters serving in the U.S. Army's 2nd Dense Urban Armored Brigade (2-DUAB) in 2047.  Each Soldier Eval documents his or her Full Spectrum Soldier Score with a composite Heart, Body, and Mind evaluation; their skillsets and training completed; previous duty assignments; an artificial intelligence-generated evaluation and recommendation; and a final overall Soldier evaluation — Read on to explore this vision of talent management in our mid Twenty-first century Army!]
1LT Edward G. MacKintosh:  1LT MacKintosh's primary is Cyber Warfare (17A) — a good fit, given his studies in Computer Science (AI Security) at the University of Washington.  But he is not your typical Cyber Warrior — he's had extensive experience operating autonomous ground and air combat systems and has served in the Arctic Circle Defense Force.  AI analysis of his performance in previous assignments recommends that he is best suited to serve at "Tip of Spear" units.  Considering the advanced AI/EW threat that 2-DUAB is about to face in Taiwan, he is being assigned to 1PLT/Bravo CO, because frontline units "will need good AI hackers outside the fence."  Good hunting, LT!
Click here to access a scalable version of 1LT MacKintosh's Soldier Eval that can be enlarged for further review.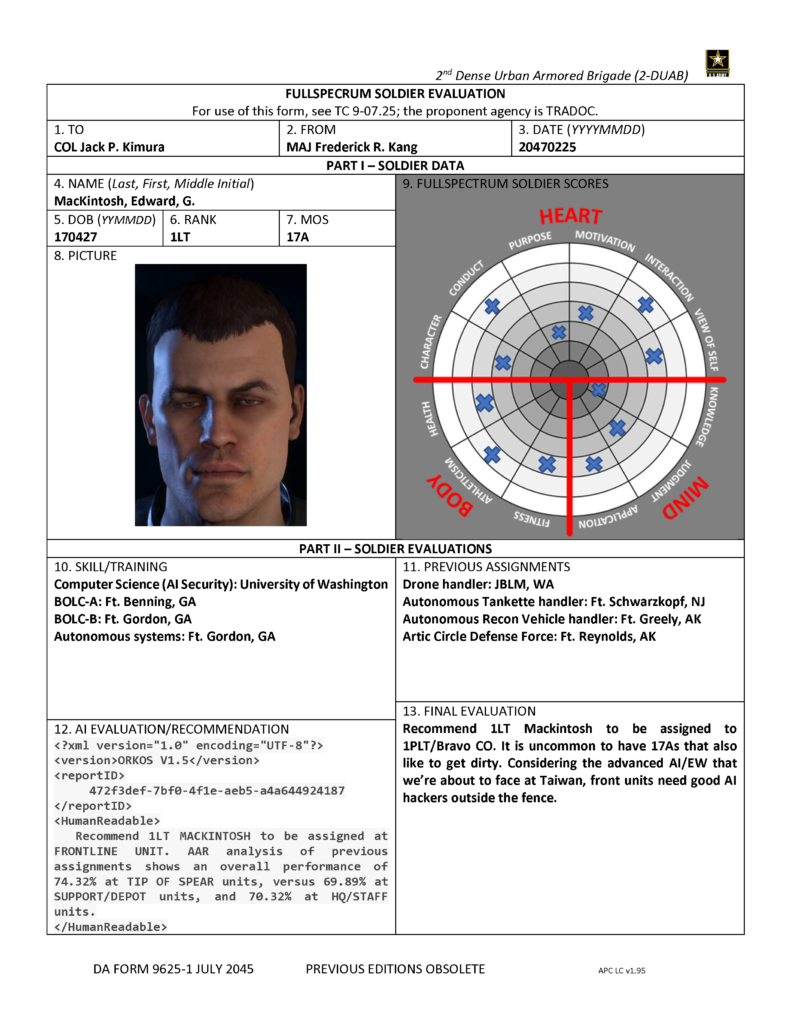 MSG Olivia Park:  MSG Park's primary is Special Forces Weapons Sergeant (18B).  This Generation Alpha Soldier studied Computer Science at Seoul National University in the Republic of Korea.  She is somewhat of an enigma, as her previous assignments have all been redacted and her AI-generated evaluation and recommendation is marked "Access Denied" — apparently the BDE S-1 lacks the requisite need to know!  We can see that MSG Park has a "tight shot grouping" for her Full Spectrum Soldier Score, indicating exceptional capabilities.
MSG Park and her team are being assigned to support 2-DUAB forward units' "cyber teams to ID and defuse any AI-driven cyberwarfare devices we may encounter."  Given that the BDE S-2 assesses that the unit "could face sound/microwave systems and wireless malware/DDoS mines embedded on any building taken by OPFOR" and "drone swarms using WiFi fluctuations inside buildings to find targets," having this exceptional Special Operator and her team supporting 2-DUAB frontline units is, to use an archaic phrase, a definite Force Multiplier!
Click here to access a scalable version of MSG Park's Soldier Eval that can be enlarged for further review.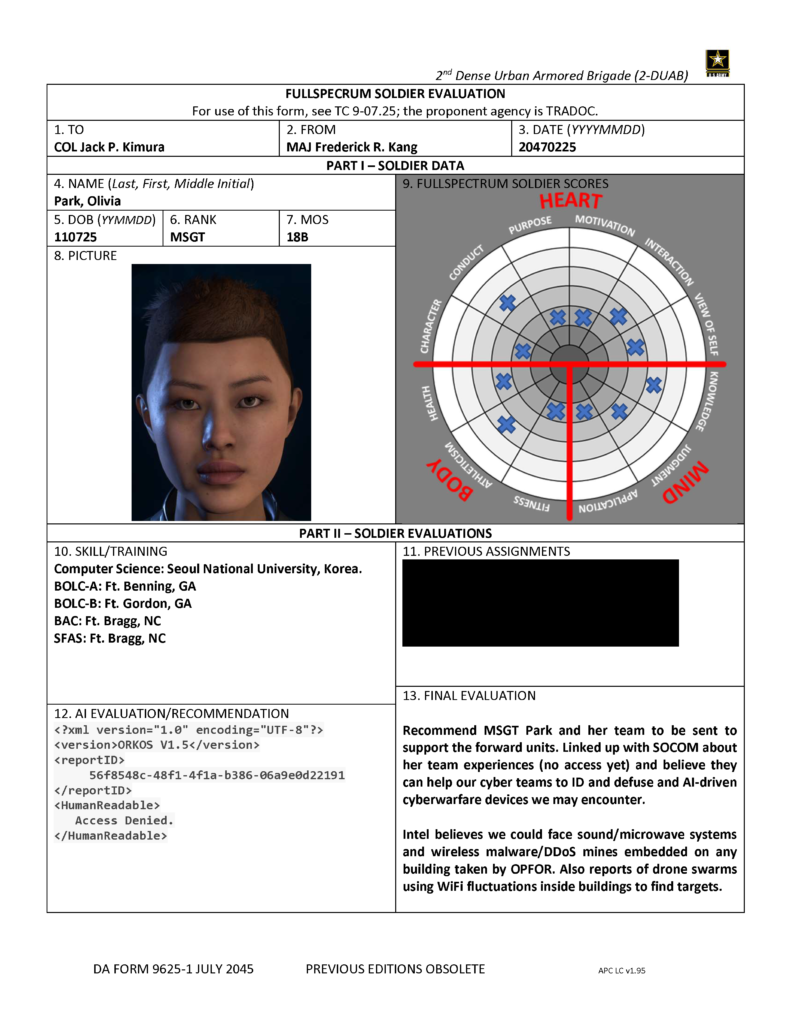 SGT Chad Lemke:  SGT Lemke's primary is Military Working Dog Handler (31K).  By 2047, military canines are bio-modified and SGT Lemke is a fully qualified Bio-modified K-9 handler — his previous assignment was with an Augmented Reality K-9 System at Ft. Belvoir, Virginia.
SGT Lemke will be assigned to 3PLT/Alpha CO with his dog, Akira, one of the few Gen2 bioengineered brain and sensory enhanced (BraSenX) dogs in 2-DUAB.  Akira understands and executes all commands received via infantry hand signals, and has "proven [he] can independently judge and act in dangerous areas even when physically separated from SGT Lemke."  Sic those ChiComs, Akira!
Click here to access a scalable version of SGT Lemke's Soldier Eval that can be enlarged for further review.
SGT Helena F. Ort:  SGT Ort's primary is Optical Horizon Scanner (OPHOS, 14E).  Not your grandfather's or grandmother's "Duck Hunter," SGT Ort is "quite proficient" with the OPHOS-2.  She has "seen the elephant" with two previous operational assignments, defending our national interests at the bleeding edge of the last war — providing Anti-Missile Air Defense in Ft. Greely, Alaska, and directly engaging our adversaries in combat with the Arctic Circle Defense Force at Ft. Reynolds, Alaska.
SGT Ort will be assigned to 2-DUAB's HQ defense.  "Her training of the image recognition AI for target acquisition helped increase interceptions by more than 10%." SGT Ort shows a marked aptitude for initiative, accessing "safe data repositories of Taiwan's natural wildlife to train the OPHOS image recognition to identify non-threats in the new theater."  The latest generation of ChiCom bio-mimicking micro C4ISR assets and swarming munitions won't stand a chance in deceiving our defenses while SGT Ort stands watch — If It Flies, It Dies! 
Click here to access a scalable version of SGT Ort's Soldier Eval that can be enlarged for further review.
SPC Robert A. Buyers:  SPC Buyers' primary is Unit Supply Specialist (92Y).  A graduate from the Hutchinson Central Technical High School in Buffalo, New York, SPC Buyers' technical aptitude in additive manufacturing and tactical innovation was recognized early on by Logistics Leaders in the Army — after completing 92Y AIT at the Sustainment Center of Excellence (SCOE), Ft. Buford, Virginia (old timers will remember it as Ft. Lee), he was retained following graduation for additional training, obtaining an Additional Skills Identifier in Additive Manufacturing.
CPT Ramierz and 1SGT Kelly requested that he be kept at the BDE HQ doing field research — "SPC Buyers shows a special ability to change publicly available CAD parts and optimize them to repair our vehicles. SPC Buyers also shows a knack for combining different printing materials to make repair parts that exceed requirements. Many of his formulas are now used by all DUAB brigades."
The BDE S-1 is troubled that SPC Buyers' exceptional talent, while obvious to all his Leaders, has been missed consistently by Human Resources Command's ORKOS V1.5 AI personal assessment tool.  Its recommended Supply/Depot assignment would have been a complete waste of SPC Buyers' talent, and given his exceptionally high Purpose, Motivation, and Conduct subcomponent scores within his Full Spectrum Soldier Score, his dissatisfaction with an unfulfilling assignment could have led to his premature departure from the Service for a more professionally and financial rewarding career with industry.  The AI tool also neglected to consider SGT Buyers' uploaded schematics and usage as part of its assessment.  The S-1 will be reaching back to HRC to report this algorithmic blindspot in ORKOS!  Trust, but verify!
Click here to access a scalable version of SGT Buyers' Soldier Eval that can be enlarged for further review.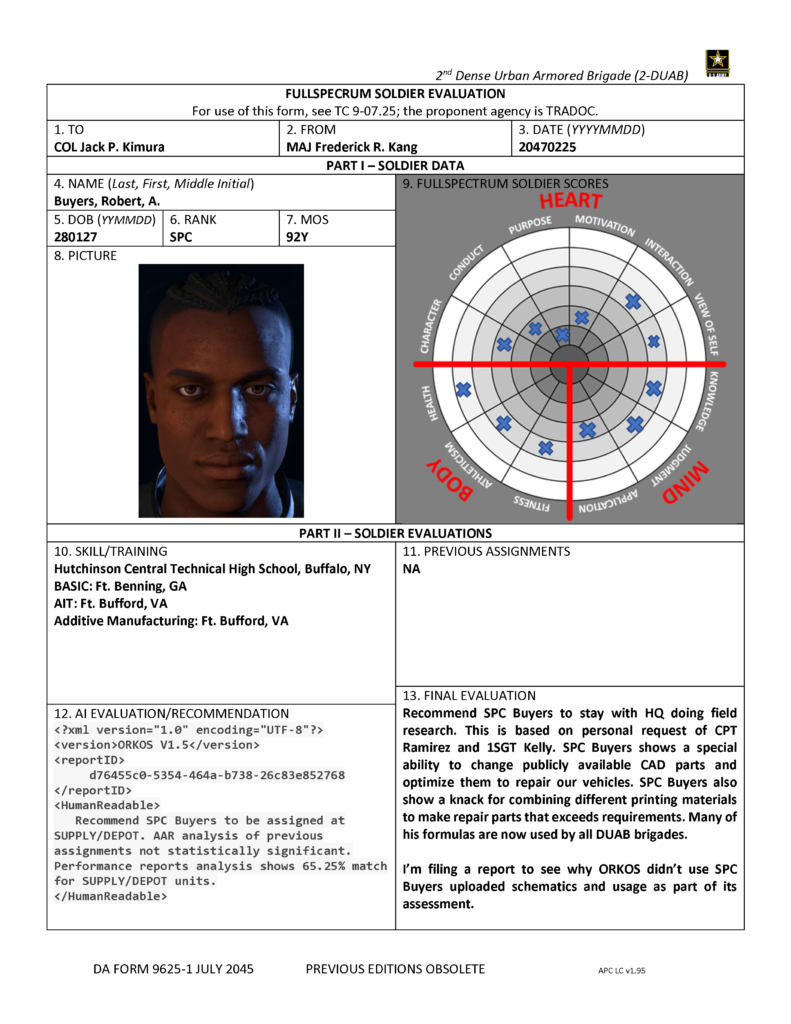 If you enjoyed this post, check out the following related content:
Insights from the Robotics and Autonomy Series of Virtual Events
On Thin Ice…, by proclaimed Mad Scientist Seth Gnesin
"No Option is Excluded" — Using Wargaming to Envision a Chinese Assault on Taiwan, by Ian Sullivan
The Future of War is Cyber!, by CPT Casey Igo and CPT Christian Turley
The PLA: Close Combat in the Information Age and the "Blade of Victory"
A Chinese Perspective on Future Urban Unmanned Operations
Integrating Artificial Intelligence into Military Operations, by Dr. James Mancillas
Tactical Innovation: The Missing Piece to Enable Army Futures Command, by LTC Jim Armstrong
The 4th Industrial Revolution, Additive Manufacturing, and the Operational Environment, by Jeremy McLain
The Convergence: The Future of Talent and Soldiers with MAJ Delaney Brown, CPT Jay Long, and 1LT Richard Kuzma and associated podcast
The Human Targeting Solution: An AI Story, by CW3 Jesse R. Crifasi
Ed dos Santos is a Senior Software Engineer and a military contractor.  By day he helps Army Futures Command bring the latest technology to Warfighters, and by night he studies all converging technologies to imagine how they will shape the future battlefield.
Disclaimer: The views expressed in this blog post do not necessarily reflect those of the Department of Defense, Department of the Army, Army Futures Command (AFC), or Training and Doctrine Command (TRADOC).