[Editor's Note:  Army Mad Scientist is pleased to present our latest episode of  The Convergence podcast, featuring General Gary M. Brito, Commanding General, U.S. Army Training and Doctrine Command (TRADOC), discussing synchronizing modernization across the Army, critical aspects of modernization that are crucial to shaping the fighting force, and how changes in the Operational Environment affect this process — Enjoy!]

[If the podcast dashboard is not rendering correctly for you, please click here to listen to the podcast.]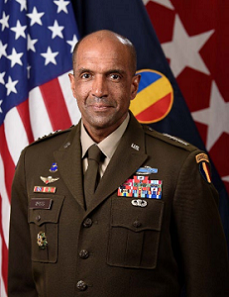 General Gary M. Brito assumed duties as the 18th Commanding General, United States Army TRADOC, on September 8, 2022.  He is responsible for building and sustaining a highly trained, disciplined, and fit Army by acquiring the best people, training the most lethal Soldiers, developing the most professional leaders, guiding the Army's culture, and shaping the future force.
In today's podcast, General Brito discusses synchronizing modernization across the Army, critical aspects of modernization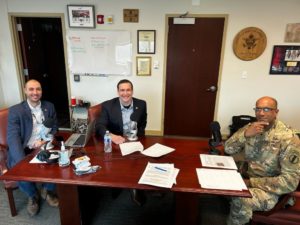 that are crucial to shaping the fighting force , and how changes in the Operational Environment affect this process.  The following bullet points highlight key insights from our discussion with General Brito:
TRADOC is "that first layer of bricks" in building readiness for the Army.  In building this foundation, TRADOC acquires the very best people, trains the most lethal Soldiers, and develops the most professional Leaders. TRADOC also provides that connective tissue that guides Army culture and shapes the future force.
Modernization is more than materiel and the Soldier is the centerpiece. Technology does not replace them, but rather is enabled by them. This scales to the squad, platoon, company, battalion, and beyond, to give the Army the overmatch needed to contest our adversaries.
Integration and synchronization across the entire DOTMLPF-P (Doctrine, Organization, Training, Materiel, Leadership and education, Personnel, Facilities, and Policy) spectrum of capabilities is one of TRADOC's major responsibilities.  Identifying the doctrine associated with a future tank or next generation aircraft has to occur at the earliest stages of acquisition, in coordination with other organizations like the Army Staff, Army Futures Command, FORSCOM, the Joint Force, and others.
It's vital that TRADOC takes the lessons learned from

current conflicts

in Eastern Europe and elsewhere and feed them into how we train our Soldiers.  It is also important to measure the impacts of new technology and materiel in a multi-domain operation. All of this new knowledge needs to be infused into the accessions process and Professional Military Education.
Balancing training, readiness, personnel, and modernization is a delicate and difficult balance in which all components need to be synchronized. It's important to weave Soldier touchpoints into the acquisition process at specific milestones for user feedback. With a good plan and coordination, the Army can modernize and test equipment, while at the same time train and build readiness.
Coordination between TRADOC and the other Army Commands is accomplished through leadership, communication, and transparency.  There is no light between Commanders of the Army Commands –they have a shared understanding of their roles within the larger Army effort. One team, one fight!
While we may not get modernization completely right — and over the last 20 years we've gotten some of our assessments wrong — we must have flexibility and versatility built into our processes.  We can adapt to new technology and pivot within our acquisition system, but if we incorrectly develop our Leaders, it will take years to recover.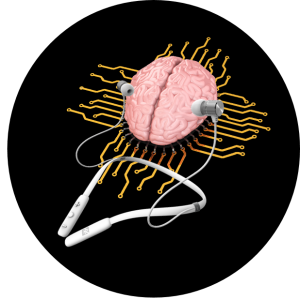 Stay tuned to the Mad Scientist Laboratory for our next episode of The Convergence on 23 March 2023!
If you enjoyed this post, mark your calendars now to watch General Brito's "Fireside Chat" with Lieutenant General(R) Leslie Smith on "Synchronizing Army Modernization" at the AUSA Global Force Symposium in Huntsville, AL, on 28 March 2023 at 1300 CDT / 1400 EDT — for more information, click here.
In the meantime, check out the following related content:
The Operational Environment (2021-2030): Great Power Competition, Crisis, and Conflict, along with its source document
"Once More unto The Breach Dear Friends": From English Longbows to Azerbaijani Drones, Army Modernization STILL Means More than Materiel , by Ian Sullivan
Other People's Wars: The US Military and the Challenge of Learning from Foreign Conflicts, with Brent L. Sterling, and associated podcast
Then and Now: Using the Past to Secure the Future by Warrant Officer Class 2 Paul Barnes, British Army
Top Attack: Lessons Learned from the Second Nagorno-Karabakh War with COL John Antal (USA-Ret.) and its associated podcast
New Skills Required to Compete & Win in the Future Operational Environment 
The Future of Learning: Personalized, Continuous, and Accelerated
Setting the Army for the Future (Parts II and III)
U.S. Demographics, 2020-2028: Serving Generations and Service Propensity
The Inexorable Role of Demographics by proclaimed Mad Scientist Caroline Duckworth
The Future of Talent and Soldiers  and associated podcast, with MAJ Delaney Brown, CPT Jay Long, and 1LT Richard Kuzma
The Trouble with Talent: Why We're Struggling to Recruit and Retain Our Workforce by Sarah L. Sladek
Disclaimer: The views expressed in this blog post do not necessarily reflect those of the U.S. Department of Defense, Department of the Army, Army Futures Command (AFC), or Training and Doctrine Command (TRADOC).