[Editor's Note:  Regular readers will remember a post from last March by LTC Jim Armstrong, addressing the Army's current "innovation gap."  He deemed that this vulnerability is likely to persist until the Army addresses the cultural obstacles that frustrate its ability to leverage innovation at the tactical level to close the gap in the innovation space.  COL Scott Shaw observed in a recent episode of our The Convergence podcast that "U.S. Soldiers and Leaders are the United States' greatest asymmetric advantage."  Today's guest blog post by members of the 4th Psychological Operations Group (4th POG) Innovation and Evolution Council describes how their Command is successfully fostering tactical innovation and leveraging the asymmetric advantage of the American Soldier to counter our adversaries advances in the competition for global influence dominance — Read on!]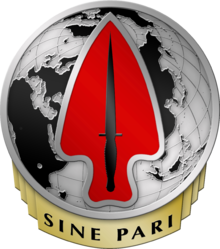 Innovation is increasingly crucial to achieving a competitive and sustained advantage over peer adversaries.  The shift in foreign policy, declared competition, coupled with a shrinking defense budget, has required military leaders to be even more creative with developing solutions to complex problems:  a task Special Operations Forces (SOF) organizations are best suited for — their ability to adapt and innovate in a timely fashion and in leveraging available human capital.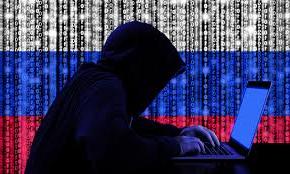 The Cambridge Analytica scandal in 2018, among other watershed moments, revealed how influence operations have become hyper-transnational, technically driven, inexpensive, and democratized in the last decade. Furthermore, Russia and China have proven their ability to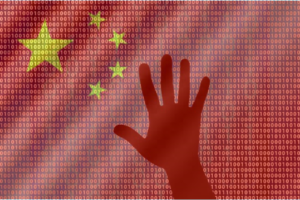 embrace technological platforms and companies, such as Cambridge Analytica, to engage audiences and undermine democracy worldwide. By 2020, 4th POG found itself challenged in an increasingly hot global arms race for influence dominance. Our adversaries often outnumber and out-invest us by orders of magnitude. While USG government offices are starting to recognize and sound the alarm, 4th POG leadership understood that barring massive and sustained innovative changes, the Group would have difficulty competing under the new paradigm.
As the character of competition became increasingly technical and specialized, the 4th POG faced various challenges in terms of how it would develop itself to address the future. Machine Learning and Artificial Intelligence (ML/AI), SOF- peculiar cyber and electromagnetic activities (CEMA), automation, data science, and analytics are all highly technical and specialized areas that the regiment had not invested in previously, but are key to the revolution in military affairs. The Group needed multiple moonshots in different areas of expertise to catch up rapidly. To achieve this, the 4th POG created the Innovation and Evolution Council (IEC), a 15-member group that ranged in rank from Sergeant to Major and drew personnel from across all the regional battalions. Its purpose is to overcome the traditional barriers to innovation within the organization and make rapid, scalable advances in how 4th POG competes to 1) win back superiority against competitors, and 2) maintain the advantage going forward. And contrary to Russia's and China's authoritative compulsory service, USSOF and PSYOP forces choose to enlist and serve; the IEC's volunteer nature is a momentous energy source.
The Name of the Game is Innovation
PSYOP Groups recently established S8 positions, signaling that long-term planning and manpower towards solution development is required for future unit success. In the U.S. Army, the S8 sections assist their units with identifying solutions for existing capability gaps or problems within the unit. This often requires long-term resources requiring formal requests for funding to result in Programs of Record for multi-year use, or in other words, the establishment of a Future Years Defense Program (FYDP).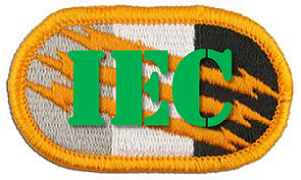 In the beginning, the IEC had to overcome several existing barriers to innovation in most Army organizations. These are:  1) finding enough "innovative" people, 2) overcoming bureaucratic complexity, and 3) overcoming organizational inertia. The key to finding enough "innovative" people is to understand that innovative and passionate minds exist in all organizations at all levels. One primary obstacle is the likelihood that these individuals will find each other or have the opportunity to collaborate in one location long enough to achieve the critical mass necessary to turn an innovative idea into reality. More often than not, multiple individuals within the SOF community and/or communities of interest are already working towards solutions and revolutionary projects. Often these people are diligently working in an unofficial capacity and on their personal time in which the chain of command is unaware. These individuals would continue to work on these problem sets with or without the IEC; however, without something like the IEC in place, the 4th POG would not have been aware of these efforts and, consequently, would have been unable to invest therein. Success for the leadership is finding these people, linking them up with one another to achieve critical mass, and investing sufficient resources to turn promising projects into sustainable action. We already see the results of this — ranging from better ways to collate and share information, shared experiences outside of the standard mission-sets and doctrine, to new perspectives that help others in their research and planning processes.
PSYOP is not alone in the endeavor to address the "next fight." The Multi-Domain Task Force in the 3rd Infantry Division and the 75th Ranger Regiment's Project Galahad were designed to take on complex problems and are highlighted as models of innovation. Both organizations are designed to address the complexity of the
modern and future battlefields, and their creation is fundamental to inspire innovation. The PSYOP Regiment is no stranger to such innovation. Special Operations Effects Cells often include PSYOP as a critical component for driving nebulous operations.
Many of the IEC's members have worked (or still work) as freelancers in marketing, graphic design, publishing, coding, film, web development, podcasting, and at a national laboratory. The members' backgrounds are diverse, providing invaluable skills and unique experiences. The IEC accepts a one-page resume and statement of purpose from any military member currently or previously assigned to the 4th POG, with STEM or related innovation experience. The resume and purpose statement allow members to know each other's backgrounds while also enabling the S8 to quickly determine which members may be best to engage on a specific problem set.
The IEC's creation has enabled a direct communication line between these Soldiers and key decision-makers within the 4th POG. This allows ideas to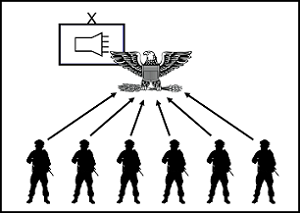 bypass the traditional series of gatekeepers and reach the Group Commander, Command Staff, and higher without fatal distortions.  Providing skilled individuals within an organization the latitude for project development and problem-solving is common in civilian organizations.  Google famously fostered similar projects that led to the creation of Gmail, AdSense, and the current Google X Lab for innovation, and all are examples of the model being successfully implemented. It is natural that adopting this model into a discipline as complex as Psychological Operations would drive a path to success.
From a behavioral psychology perspective, change is difficult and overcoming organizational inertia has been the biggest challenge to innovation projects when the IEC attempts to scale its efforts. To persuade rank and file Soldiers and average leadership populations to adopt changes, adjust existing behaviors, or change certain beliefs is just as challenging as the act of innovating itself.  Innovative ideas and practices will fall short of the desired effect if most organizations do not adopt the changes or do not possess the technical skills required.
Outside-the-box Operations
Critical mass requires enough individuals working on a project for a sufficient amount of time to turn an idea into reality. To work around the fact that members work across various units and have primary duties and responsibilities that have to come first, the IEC functions as a persistent working group where experience and proficiency determine the group's direction and individuals' focus. Once accepted, members continue to work on projects and contribute even if they change units, duty status, or jobs. While far from ideal, this arrangement allows for the level of persistence necessary to see projects to completion. Members harness the available technology to maintain communication and productivity.  The unit's S8, also known as the cyber, innovation, and modernization officer, serves as the group moderator and knowledge link with Programs of Record, Doctrine, and the Command. IEC members engage and answer on their own time, focusing on their areas of personal skills, knowledge, and talent.
The role of the S8 is crucial to overcoming bureaucratic inertia in the innovation process. Within SOF, existing systems and procedures exist to support and resource innovation that stretch into the interagency networks. The problem is that these were created over years or decades and have likewise grown in complexity. There is a steep learning curve associated with understanding this network, how to navigate it, and then leverage it for change. Without the S8 position to coordinate these complex interactions full-time, innovations are significantly less likely to occur and the chance of an innovative idea reaching fruition decreases drastically.
The IEC uses DoD Commercial Virtual Remote (CVR) [now superseded by Army365], SOCOM Microsoft Teams, the various applications hosted within both platforms, and
the rest of the Special Operations Forces (SOF) Information Enterprise. Using these platforms, the IEC improves continuity, increases feedback via surveys, communicates globally, and improves task-focused teamwork.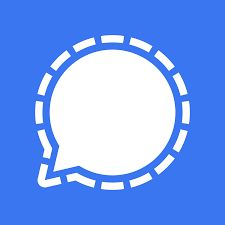 We also endlessly feed creativity and curiosity with discourse among less official platforms, such as Discord and Signal.  The content for this blog post was written, compiled, and edited within the electronic IEC Team on SOCOM Microsoft Teams.
IEC members work with highly experienced individuals from all the SOCOM Regiments and AOs, allowing ideas and skills to cross-pollinate vertically and horizontally within and outside the organization. Valuable input and feedback directly contribute to the modernization, innovation, and evolution within the Command Subordinate Units (CSU), 1st Special Forces Command (Airborne), U.S. Army Special Operations Command, and U.S. Special Operations Command. IEC members interact with the innovation, science and technology, and modernization leads throughout these multiple echelons.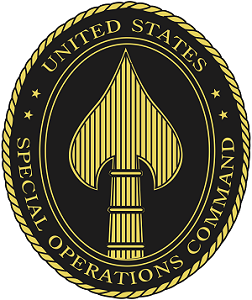 In an era of competing tech platforms, the IEC can evaluate and provide written feedback that will directly benefit the broader USSOCOM enterprise. And with limited personnel within the ranks with such specialized knowledge, the IEC has been critical in standing up the Group's Digital Training Facility by writing objectives, tasks, concepts of training, and equipment requirements. When members can reach back to the IEC, they find a seemingly endless pool of knowledge and experience. IEC discourse has aided real-world missions and solved problems, such as working with policies and procedures that were entirely new for the unit of action. Due to the IEC's collaborative nature, a member from the IWC (Information Warfare Center) responded to complications promptly.
The Big Picture
Leadership is supportive of the IEC's positive change agents. The Group Commander identified the need to create unique solutions and foster more innovation, leading to the creation of the IEC. The Group Commander plays a direct and vital role in promoting the positive work environment and open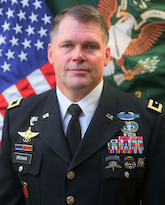 discourse of the IEC. In line with that position is the perspective of the 1st Special Forces Command (Airborne) Commanding General with his recent words: "People are our most precious resource, and I challenge you to introduce fresh, innovative, norm-shattering ways of recruiting, managing, and optimizing talent."
The IEC has become an emerging pillar in the professional and individual development of unique minds within the PSYOP Regiment; empowering the Group and Battalion Command teams to identify and foster talent, apply said talent to the betterment of the PSYOP Regiment, and provide a deep sense of purpose and direction.
Strict adherence to rank and position is counter-intuitive for Soldiers who regularly deploy in U.S. Embassy environments alongside senior diplomats and interagency partners. The IEC serves as an oasis within the community for those who have a desire to hone their core competencies and contribute to the success of PSYOP and the Special Operations community.
The age-old mantra of "adapt or die" seems very applicable to this moment in time for any organization interested in influence operations. Until sweeping organizational changes are made that prioritize innovation, the ad hoc model that the IEC is based on is a viable solution for Commanders facing similar challenges.
A Path Forward
The IEC hopes this concept of in-unit crowdsourced collaboration can set an example for other military and SOF units desiring to improve productivity and solutions within their own units. IEC members bring significant value to their units, knowledge, and relationships developed.
IEC members are highly qualified individuals with duties to their units; those duties do not go away when volunteering for the IEC. The unique skillsets and expertise that Council members carry to their subordinate units act as a cornerstone to the SOF model and mission sets. Problems and gaps identified by a council member's subordinate unit are a part of the feedback used to develop solutions. Similarly, issues identified at the Company-level are given credence two levels up because of the Council — expediting multiple processes and facilitating faster solutions.
IEC members are mentors and mentees, all while holistically and diligently working to foster a positive and innovative work culture in the various organizations represented. The goal is to identify solutions for the Force, but the positive effort also naturally provides members a rewarding hope for the future. The hope is that more military organizations set up similar panels to tackle their most challenging and complex problems.
Sustained innovation has always been an elusive goal for Commanders, even within the SOF community. Regular internal personnel movement, overall force turnover, and cultural obstacles often combined to stifle innovation. In typical Army fashion, Commanders of the past believed that innovation could be tasked into existence. The belief that throwing enough people and money at a challenge will result in innovation is common.
Looking at the IEC, it is tempting to believe that this was the case, but the truth is more nuanced. The appearance of innovation and actual innovation are two very different things. Understanding this is key to successfully replicating the effort in other organizations.
If you liked this post, check out the following related content:
Strategic Latency Unleashed!, Going on the Offensive in the Fight for the Future, and associated podcast
Tactical Innovation: The Missing Piece to Enable Army Futures Command, by LTC Jim Armstrong
The Convergence: The Future of Ground Warfare with COL Scott Shaw and associated podcast
The Convergence: Innovating Innovation with Molly Cain and associated podcast
Dense Urban Hackathon – Virtual Innovation
"Once More unto The Breach Dear Friends": From English Longbows to Azerbaijani Drones, Army Modernization STILL Means More than Materiel and The Myth of Agincourt and Lessons on Army Modernization, by Mr. Ian Sullivan
Mission Engineering and Prototype Warfare: Operationalizing Technology Faster to Stay Ahead of the Threat by The Strategic Cohort at the U.S. Army Tank Automotive Research, Development, and Engineering Center (TARDEC).

Four Elements for Future Innovation by Dr. Richard Nabors
The Changing Dynamics of Innovation
Innovation Isn't Enough: How Creativity Enables Disruptive Strategic Thinking, by Heather Venable
Reminder!!! Army Mad Scientist is CALLING ALL CREATORS with our Multi-Media Contest for imaginative artists who would like to showcase their ideas about future possibilities in alternative ways. For more information, check out our announcement and flyer, then consult your inner muse, unleash your creative talent, get cracking developing your multi-media entry, and submit it to madscitradoc@gmail.com — Deadline for submission is 6 August 2021!

About the Authors:
MAJ Trisha E. Wyman is an Army PSYOP officer and graduated with a BA in Global Studies from Methodist University in 2011, a Master of Professional Studies in Security and Safety Leadership from the George Washington University in 2015, and an MS in Information Strategy and Political Warfare from the Naval Postgraduate School in 2019.
 MAJ Ashley Franz Holzmann is an Army PSYOP officer. He graduated with a BS in Sociology from West Point in 2009 and a Master of Military Art and Science from the Command and General Staff College in 2020.
 CPT Robert Kava is an Army PSYOP Officer. He graduated with a BS in Law from West Point in 2012.
SSG John Kozlowski is a PSYOP Non-commissioned officer with a BA in Psychology (2013) and is a Certified Electronic Technician.
 CPT Vu Tran is an Army PSYOP Officer. He graduated with a BS in Political Philosophy, Policy, and Law as an Echols scholar from the University of Virginia in 2012.
Disclaimer: The views expressed in this blog post do not necessarily reflect those of the Department of Defense, Department of the Army, Army Futures Command (AFC), Training and Doctrine Command (TRADOC), 4th Psychological Operations Group, or any other Special Operations unit.