[Editor's Note: Since its inception in November 2017, the Mad Scientist Laboratory has enabled us to expand our reach and engage global innovators from across industry, academia, and the Government regarding emergent disruptive technologies and their individual and convergent impacts on the future of warfare. For perspective, our blog has accrued 106K views by over 57K visitors from around the world!
Our Mad Scientist Community of Action continues to grow — in no small part due to the many guest bloggers who have shared their provocative, insightful, and occasionally disturbing visions of the future. To date, 53% of the blog posts published have been submitted by guest bloggers! We challenge you all to contribute your ideas about warfare and the Future Operational Environment!
In particular, we would like to recognize proclaimed Mad Scientist Dr. Alexander Kott by re-posting our review of his paper, Ground Warfare in 2050: How It Might Look, original published by the US Army Research Laboratory in August 2018.  This paper provides a technological forecast of autonomous intelligent agents and robots and their potential for employment on future battlefields in the year 2050.
Our review of Dr. Kott's paper generated a record number of visits and views during the past six month period. Consequently, we hereby declare Dr. Kott to be the Mad Scientist Laboratory's "Maddest" Guest Blogger! for the first and second quarters of FY19. In recognition of this achievement, Dr. Kott will receive much coveted Mad Scientist swag!
Enjoy today's post as we revisit Dr. Kott's conclusions with links to our previously published posts supporting his findings.]
Ground Warfare in 2050:  How It Might Look
In his paper, Dr. Kott addresses two major trends (currently under way) that will continue to affect combat operations for the foreseeable future. They are:
• The employment of small aerial drones for Intelligence, Surveillance, and Reconnaissance (ISR) will continue, making concealment difficult and eliminating distance from opposing forces as a means of counter-detection. This will require the development and use of decoy capabilities (also intelligent robotic devices). This counter-reconnaissance fight will feature prominently on future battlefields between autonomous sensors and countermeasures – "a robot-on-robot affair."
See our related discussions regarding Concealment in the Fundamental Questions Affecting Army Modernization post and Finders vs Hiders in our Timeless Competitions post.
• The continued proliferation of intelligent munitions, operating at greater distances, collaborating in teams to seek out and destroy designated targets, and able to defeat armored and other hardened targets, as well as defiladed and entrenched targets.
See our descriptions of the future recon / strike complex in our Advanced Engagement Battlespace and the "Hyperactive Battlefield" post, and Robotics and Swarms / Semi Autonomous capabilities in our Potential Game Changers post.
These two trends will, in turn, drive the following forecasted developments: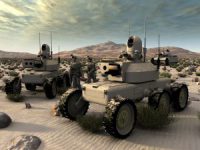 • Increasing reliance on unmanned systems, "with humans becoming a minority within the overall force, being further dispersed across the battlefield."
See Mr. Jeff Becker's post on The Multi-Domain "Dragoon" Squad: A Hyper-enabled Combat System, and Mr. Mike Matson's Demons in the Tall Grass, both of which envision future tactical units employing greater numbers of autonomous combat systems; as well as Mr. Sam Bendett's post on Russian Ground Battlefield Robots: A Candid Evaluation and Ways Forward, addressing the contemporary hurdles that one of our strategic competitors must address in operationalizing Unmanned Ground Vehicles.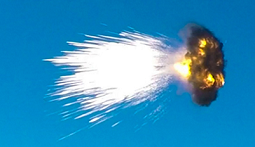 • Intelligent munitions will be neutralized "primarily by missiles and only secondarily by armor and entrenchments. Specialized autonomous protection vehicles will be required that will use their extensive load of antimissiles to defeat the incoming intelligent munitions."
See our discussion of what warfare at machine-speed looks like in our Advanced Engagement Battlespace and the "Hyperactive Battlefield".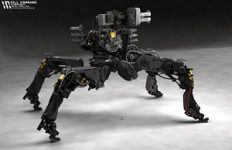 • Forces will exploit "very complex terrain, such as dense forest and urban environments" for cover and concealment, requiring the development of highly mobile "ground robots with legs and limbs," able to negotiate this congested landscape.
See our Megacities: Future Challenges and Responses and Integrated Sensors: The Critical Element in Future Complex Environment Warfare posts that address future complex operational environments.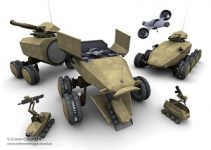 • The proliferation of autonomous combat systems on the battlefield will generate an additional required capability — "a significant number of specialized robotic vehicles that will serve as mobile power generation plants and charging stations."
See our discussion of future Power capabilities on our Potential Game Changers handout.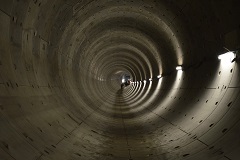 • "To gain protection from intelligent munitions, extended subterranean tunnels and facilities will become important. This in turn will necessitate the tunnel-digging robotic machines, suitably equipped for battlefield mobility."
See our discussion of Multi-Domain Swarming in our Black Swans and Pink Flamingos post.
• All of these autonomous, yet simultaneously integrated and networked battlefield systems will be vulnerable to Cyber-Electromagnetic Activities (CEMA). Consequently, the battle within the Cyber domain will "be fought largely by various autonomous cyber agents that will attack, defend, and manage the overall network of exceptional complexity and dynamics."
See MAJ Chris Telley's post addressing Artificial Intelligence (AI) as an Information Operations tool in his Influence at Machine Speed: The Coming of AI-Powered Propaganda.
• The "high volume and velocity of information produced and demanded by the robot-intensive force" will require an increasingly autonomous Command and Control (C2) system, with humans increasingly being on, rather than in, the loop.
See Mr. Ian Sullivan's discussion of AI vs. AI and how the decisive edge accrues to the combatant with more autonomous decision-action concurrency in his Lessons Learned in Assessing the Operational Environment post.
If you enjoyed reading this post, please watch Dr. Alexander Kott's presentation, "The Network is the Robot," from the Mad Scientist Robotics, Artificial Intelligence, and Autonomy: Visioning Multi-Domain Warfare in 2030-2050 Conference, co-sponsored by the Georgia Tech Research Institute (GTRI), in Atlanta, Georgia, 7-8 March 2017.
… and crank up Mr. Roboto by Styx!
Dr. Alexander Kott serves as the ARL's Chief Scientist. In this role he provides leadership in development of ARL technical strategy, maintaining technical quality of ARL research, and representing ARL to external technical community. He published over 80 technical papers and served as the initiator, co-author and primary editor of over ten books, including most recently Cyber Defense and Situational Awareness (2015) and Cyber Security of SCADA and other Industrial Control Systems (2016), and the forthcoming Cyber Resilience of Systems and Networks (2019).