[Editor's Note:  Army Mad Scientist leveraged age diversity in the subject webinar, part of this year's series of Competition and Conflict virtual events – exploring our adversaries' views on Competition, Crisis, Conflict, and Change.  On 6 May 2021, the following panel of prominent and diverse young minds from the national security arena shared their ideas about the future of Competition and Conflict for the next decade:
Jessica Budlong – Founder and Executive Director of the Nuclear Fusion Project; Communications Assistant at University of Denver; Former Research Intern at Lawrence Livermore National Laboratory and Center for Arms Control and Non-Proliferation
MAJ Amos Fox – Executive Officer, 3rd Squadron, 4th Special Forces Assistance Brigade; School of Advanced Military Studies graduate and COL Tom Felts award winner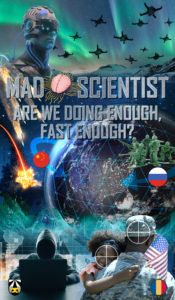 CPT Lauren Hansen-Armendariz – Deputy Chief of Innovation, 101st Airborne Division; Intelligence Officer
Evanna Hu – CEO, Partner at Omelas; Technologist; Information Environment Subject Matter Expert; Lecturer; Nonresident Senior Fellow at the Atlantic Council
MAJ Michael Kanaan – Active duty Air Force AI Expert; Author of "T-Minus AI;" Director of Operations, Department of the Air Force / MIT Artificial Intelligence; Former Co-Chair of AI, U.S. Air Force
Jimmy Zhang – Policy Analyst, Emerging Threats at Department of Homeland Security; Director, National Security Programs at Embolden; Former International Affairs Specialist at Department of Justice
Today's post highlights the insights gleaned from their panel discussion — Read on!]
Younger generations are particularly interested in the future of Competition and Conflict, and seek to be heard and have an impact in the national security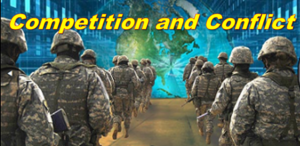 arena. They recognize that although it is difficult to predict the future security landscape, our Nation's agility in responding to rapidly evolving threats will be critical to mission success. As such, they conceptualize strategy and competition as a constant process that must be continuously adjusted and maintained. These generations conceptualize the future of national security in novel ways and can help the Army frame its vision for the future.
1. Although new to us, most trends and threats in national security will have historical precedent. Conceptualizing national security in this way embodies the idea of "combinatorial creativity," in which ideas and techniques from one industry are applied to a new one. Thus, integrating security efforts across Government agencies and with the private sector can promote the flow of ideas, and allow for more creative solutions to emerging threats.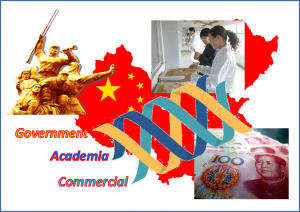 The panelists noted that China's Military-Civil Fusion facilitates this integrated "triple helix" approach. They argued that the United States should consider new ways to expedite the flow of ideas beyond the creation of task forces, which are often temporary in nature. One way in which this could be done would be by increasing investment in Federally Funded Research and Development Centers (FFRDCs), which enlist creative thinkers to solve problems and promote new ideas.
2. The line between war and peace will continue to blur, challenging our cognitive security. Although competition with peers like China and Russia will escalate, so too will opportunities to collaborate (e.g., on climate change). As the grey zone widens, it will be difficult to describe competitors as strictly allies or adversaries, increasing complexity in the international sphere. Importantly, however, this feature of competition is not new, as panelists noted that the United States and the Soviet Union cooperated in space, even at the height of the Cold War.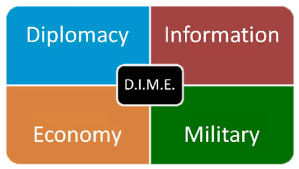 3. The information sphere is democratizing, allowing the information pillar of DIME to stretch across all domains. Increased accessibility and proliferation of disinformation will challenge trust across entire generations. The ethical implications of the United States engaging in offensive information operations are still debated, and very few DoD offices have the authority to engage in such practices. Regardless of whether it chooses to employ this tactic, the United States must determine how to maintain credibility both domestically and abroad as disinformation becomes more engaging and accessible.
To thrive in this constantly evolving, competitive security space, the panelists recommend the United States and the Army develop a variety of critical competencies, from defined grand strategy practices to a thriving team mentality. Adjustments in U.S. military budgets will need to be made to meet these objectives. While cutting excess and overhead will help, the panelists

also acknowledged that Senior Leaders need to better collaborate with Congress in order to define DoD goals and ensure that the U.S. budget aligns correctly with its stated priorities. Along these lines, the panelists proposed:
1. Creating diverse and innovative teams with a culture of experimentation and learning will be critical to Army success in competition and conflict. Supporting Soldiers to take risks, learn, and share their experiences will create a culture of innovation. These teams
will require leaders who operate based on a "we" mentality, connect their members with resources and personnel to support their efforts, and are willing to change course when a technique no longer works. The panelists noted that leadership will be the defining element of success in great power competition, and the best leaders will be collected under pressure and willing to adapt.
To create teams with these characteristics, the panelists argued that the United States should increase spending on Professional Military Education (PME). The panelists asserted that problems and solutions start with people. By increasing training and retraining of our forces, we can maintain the U.S. comparative advantage in creative and resilient Services.
The United States can leverage significant demographic and cultural diversity, a major strength compared to our peer competitors. The U.S. military and security sphere should prioritize recruitment and retention of diverse perspectives.
The panelists even suggested revisiting the accessibility of security clearances in order to fully leverage these populations.
2. Explicitly define each desired end-state and describe acceptable conditions and responses to them. Establishing clearly defined goals and accounting for sub optimization will allow the United States to build in off-ramps on both sides and lead to the creation of a consistent and acceptable grand strategy. Defining objectives will also allow the United States to distinguish between problems to be solved vs problems managed, creating achievable expectations.
3. The United States should shift from prioritizing power projection capabilities to prioritizing denial capabilities.  Developments in AI and cyber are largely offensive-dominant and can in many ways undermine stability of the international system. However, "a willingness to go somewhere different" could enable the United States to maintain strength in the international arena while simultaneously creating a more stable international order.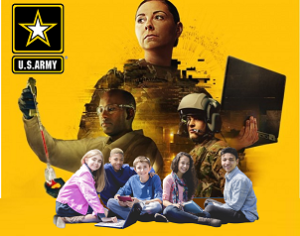 The panelists noted that creating the type of change they hope to see will take time. While younger generations are excited to make an impact, they will still need to be incentivized to become involved in security. In many cases, this effort will involve incentivizing older generations to be open to the ideas and propositions of the incoming generations. Developments will be part of "the long game" and will require a holistic approach:  synthesis between generations and between the public and private sectors.
The panelists argued that advancement can be achieved by optimizing and augmenting processes that already exist, and fully committing to applying what we have already learned to new areas of the government. This effort may take the form of integrating new technology or reimagining an existing policy. By continuously experimenting, acknowledging what doesn't work, and institutionalizing what does, the United States can ensure it maintains its position as a global leader.
To learn more about our Young Minds on Competition and Conflict webinar, review our panelists' biographies and watch the entire video of the panel discussion (via a non-DoD network).
If you enjoyed this post, check out the following related content:
Competition and Conflict in the Next Decade
U.S. Demographics, 2020-2028: Serving Generations and Service Propensity
Going on the Offensive in the Fight for the Future and associated podcast
Insights from the Mad Scientist Weaponized Information Series of Virtual Events
New Skills Required to Compete & Win in the Future Operational Environment 
How does the Army – as part of the Joint force – Build and Employ Teams to Compete, Penetrate, Disintegrate, and Exploit our Adversaries in the Future?
Strategic Latency Unleashed!, Going on the Offensive in the Fight for the Future, and associated podcast
Tactical Innovation: The Missing Piece to Enable Army Futures Command, by LTC Jim Armstrong
The Convergence: The Future of Ground Warfare with COL Scott Shaw and associated podcast
>>>> THIS WEEK!!! If you want to learn more about age diverse perspectives and the future of national security, make sure you plug into the upcoming TRADOC Leader Professional Development webinar — Bridging Generations:  Leading Gen Z in the Future Army!  Hosted by GEN Paul E. Funk II, Commanding General, TRADOC, this webinar features guest speaker Jason Dorsey, President of the Center for Generational Kinetics and author of Zconomy: How Gen Z Will Change the Future of Business and What To Do About It.  Don't miss this informative webinar on Thursday, 15 July 2021, from 1100-1200 Eastern. The webinar will be streamed on the TRADOC Facebook Page and the TRADOC Watch Page.
>>>> REMINDER!!! Army Mad Scientist is CALLING ALL CREATORS with our Multi-Media Contest for imaginative artists who would like to showcase their ideas about future possibilities in alternative ways. For more information, check out our announcement and flyer, then consult your inner muse, unleash your creative talent, get cracking developing your multi-media entry, and submit it to madscitradoc@gmail.com.  There are only 26 days left… deadline for submission is 6 August 2021!!!