[Editor's Note: Mad Scientist Laboratory is pleased to publish the second in our series of "The Tenth Man" posts (read the first one here). This Devil's Advocate or contrarian approach serves as a form of alternative analysis and is a check against group think and mirror imaging. The Mad Scientist Laboratory offers it as a platform for the contrarians in our network to share their alternative perspectives and analyses regarding the Future Operational Environment.
Today's post is by guest blogger Mr. Ray Finch addressing Russia's on-going efforts to develop a military innovation center — Era Military Innovation Technopark — near the city of Anapa (Krasnodar Region) on the northern coast of the Black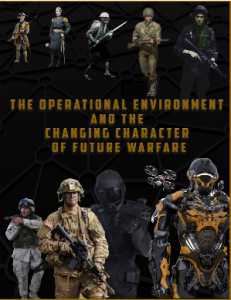 Sea. Per The Operational Environment and the Changing Character of Future Warfare, "Russia can be considered our 'pacing threat,' and will be our most capable potential foe for at least the first half of the Era of Accelerated Human Progress [now through 2035]. It will remain a key adversary through the Era of Contested Equality [2035-2050]." So any Russian attempts at innovation to create "A Militarized Silicon Valley in Russia" should be sounding alarms throughout the NATO Alliance, right? Well, maybe not….]
(Please note that several of Mr. Finch's embedded links in the post below are best accessed using non-DoD networks.)
Only a Mad Russian Scientist could write the paragraph below: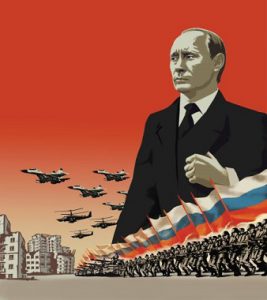 If all goes according to plan, in October 2035 the Kremlin will host a gala birthday party to commemorate President Putin's 83d birthday. Ever since the Russian leader began receiving special biosynthetic plasma developed by military scientists at the country's premier Era Technopolis Center in Anapa, the president's health and overall fitness now resembles that of a 45-year old. This development was just one in a series of innovations which have helped to transform – not just the Kremlin leader – but the entire country. By focusing its best and brightest on new technologies, Russia has become the global leader in information and telecommunication systems, artificial intelligence, robotic complexes, supercomputers, technical vision and pattern recognition, information security, nanotechnology and nanomaterials, energy tech and technology life support cycle, as well as bioengineering, biosynthetic, and biosensor technologies. In many respects, Russia is now the strongest country in the world.
While this certainly echoes the current Kremlin propaganda, a more sober analysis regarding the outcomes of the Era Military Innovation Technopark in Anapa (Krasnodar Region) ought to consider those systemic factors which will likely retard its future development. Below are five reasons why Putin and Russia will likely have less to celebrate in 2035.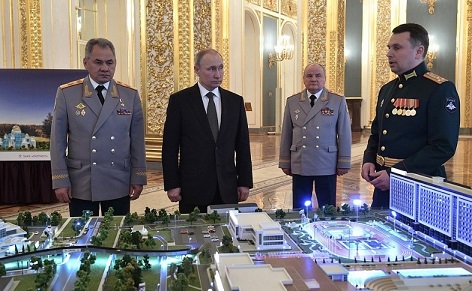 You can't have milk without a cow
The primary reason that the Kremlin's attempt to create breakthrough innovations at the Era Technopark will result in disappointment stems from the lack of a robust social structure to support such innovations. And it's not simply the absence of good roads or adequate healthcare. As the renowned MIT scientist, Dr. Loren R. Graham recently pointed out, the Kremlin leadership wants to enjoy the "milk" of technology, without worrying about supporting the system needed to support a "cow." Graham elaborates on his observation by pointing out that even though Russian scientists have often been at the forefront of technological innovations, the country's poor legal system prevents these discoveries from ever bearing fruit. Stifling bureaucracy and a broken legal system prevent Russian scientists and innovators from profiting from their discoveries. This dilemma leads to the second factor.
Brain drain
Despite all of the Kremlin's patriotic hype over the past several years, many young and talented Russians are voting with their feet and pursuing careers abroad. As the senior Russian analyst, Dr. Gordon M. Hahn noted, "instead of voting for pro-democratic forces and/or fomenting unrest, Russia's discontented, highly educated, highly skilled university graduates tend to move abroad to find suitable work." And even though the US is maligned on a daily basis in the Kremlin-supported Russian media, many of these smart, young Russians are moving to America. Indeed, according to a recent Radio Free Europe/Radio Liberty (RFE/RL) report, "the number of asylum applications by Russian citizens in the United States hit a 24-year high in 2017, jumping nearly 40 percent from the previous year and continuing an upward march that began after Russian President Vladimir Putin returned to the Kremlin in 2012." These smart, young Russians believe that their country is headed in the wrong direction and are looking for opportunities elsewhere.
Everything turns out to be a Kalashnikov
There's no doubt that Russian scientists and technicians are capable of creating effective weapon systems. President Putin's recent display of military muscle-power was not a mere campaign stratagem, but rather a reminder to his Western "partners" that since Russia remains armed to the teeth, his country deserves respect. And there's little question that the new Era Technopark will help to create advanced weapon systems of "which there is no analogous version in the world." But that's just the point. While Russia is famous for its tanks, artillery, and rocket systems, it has struggled to create anything which might be qualified as a technological marvel in the civilian sector. As some Russian observers have put it, "no matter what the state tries to develop, it ends up being a Kalashnikov."

The Boss knows what's best
The current Kremlin leadership now parades itself as being at the forefront of a global conservative and traditional movement. In their favorite narrative, the conniving US is forever trying to weaken Russia (and other autocratic countries) by infecting them with a liberal bacillus, often referred to as a "color revolution." In their rendition, Russia was contaminated by this democratic disease during the 1990s, only to find itself weakened and taken advantage of by America.
Since then, the Kremlin leadership has retained the form of democracy, but has removed its essence. Elections are held, ballots are cast, but the winner is pre-determined from above. So far, the Russian population has played along with this charade, but at some point, perhaps in an economic crisis, the increasingly plugged-in Russian population might demand a more representative form of government. Regardless, while this top-down, conservative model is ideal for maintaining control and staging major events, it lacks the essential freedom inherent within innovation. Moreover, such a quasi-autocratic system tends to promote Russia's most serious challenge.
The cancer of corruption
Despite the façade of a uniformed, law-governed state, Russia continues to rank near the bottom on the global corruption index. According to a recent Russian report, "90 percent of entrepreneurs have encountered corruption at least once." Private Russian companies will likely think twice before deciding to invest in the Era Technopark, unless of course, the Kremlin makes them an offer they cannot refuse. Moreover, as suggested earlier, the young Era scientists may not be fully committed, understanding that the "milk" of their technological discoveries will likely by expropriated by their uniformed bosses.
Technopark Era is not scheduled to be fully operational until 2020, and the elevated rhetoric over its innovative mandate will likely prompt concern among some US defense officials. While the center could advance Russian military technology over the next 15-25 years, it is doubtful that Era will usher in a new era for Russia.
If you enjoyed this edition of the "Tenth Man":
– Learn more about Russia's Era Military Innovation Technopark in the April 2018 edition of the TRADOC G-2's Foreign Military Studies Office (FMSO) OE Watch, Volume 8, Issue 4, pages 10-11.
– Read Mad Scientist Sam Bendett's guest blog post on Russian Ground Battlefield Robots: A Candid Evaluation and Ways Forward.
Ray Finch works as a Eurasian Analyst at the Foreign Military Studies Office. He's a former Army officer (Artillery and Russian FAO).