[Editor's Note: Mad Scientist Laboratory is pleased to present a post by guest blogger MAJ(P) Kelly McCoy, U.S. Army Training and Doctrine Command (TRADOC), with a theme familiar to anyone who has ever debated super powers in a schoolyard during recess. Yet despite its familiarity, it remains a serious question as we seek to modernize the U.S. Army in light of our pacing threat adversaries. The question of "human-in-the-loop" versus "human-out-of-the-loop" is an extremely timely and cogent question.]
Iron Man versus Terminator — who would win? It is a debate that challenges morality, firepower, ingenuity, and pop culture prowess. But when it comes down to brass tacks, who would really win and what does that say about us?
Mad Scientist maintains that:
Today: Mano a mano, Iron Man's human ingenuity, grit, and irrationality would carry the day; however…
In the Future: Facing the entire Skynet distributed neural net, Iron Man's human-in-the-loop would be overwhelmed by a coordinated, swarming attack of Terminators.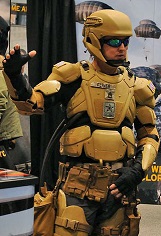 Iron Man is the super-empowered human utilizing Artificial Intelligence (AI) — Just A Rather Very Intelligent System or JARVIS — to augment the synthesizing of data and robotics to increase strength, speed, and lethality. Iron Man utilizes autonomous systems, but maintains a human-in-the- loop for lethality decisions. Conversely, the Terminator is pure machine – with AI at the helm for all decision-making. Terminators are built for specific purposes – and for this case let's assume these robotic soldiers are designed specifically for urban warfare. Finally, strength, lethality, cyber vulnerabilities, and modularity of capabilities between Iron Man and Terminator are assumed to be relatively equal to each other.
Up front, Iron Man is constrained by individual human bias, retention and application of training, and physical and mental fatigue. Heading into the fight, the human behind a super powered robotic enhancing suit will make decisions based on their own biases. How does one respond to too much information or not enough? How do they react when needing to respond while wrestling with the details of what needs to be remembered at the right time and space? Compounding this is the retention and application of the individual human's training leading up to this point. Have they successfully undergone enough repetitions to mitigate their biases and arrive at the best solution and response? Finally, our most human vulnerability is physical and mental fatigue. Without adding in psychoactive drugs, how would you respond to taking the Graduate Record Examinations (GRE) while simultaneously winning a combatives match? How long would you last before you are mentally and physically exhausted?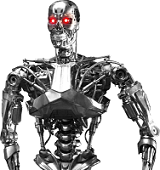 What the human faces is a Terminator who removes bias and optimizes responses through machine learning, access to a network of knowledge, options, and capabilities, and relentless speed to process information. How much better would a Soldier be with their biases removed and the ability to apply the full library of lessons learned? To process the available information that contextualizes environment without cognitive overload. Arriving at the optimum decision, based on the outcomes of thousands of scenarios.
Iron Man arrives to this fight with irrationality and ingenuity; the ability to quickly adapt to complex problems and environments; tenacity; and morality that is uniquely human. Given this, the Terminator is faced with an adversary who can not only adapt, but also persevere with utter unpredictability. And here the Terminator's weaknesses come to light. Their algorithms are matched to an environment – but environments can change and render algorithms obsolete. Their energy sources are finite – where humans can run on empty, Terminators power off. Finally, there are always glitches and vulnerabilities. Autonomous systems depend on the environment that it is coded for – if you know how to corrupt the environment, you can corrupt the system.
Ultimately the question of Iron Man versus Terminator is a question of time and human value and worth. In time, it is likely that the Iron Man will fall in the first fight. However, the victor is never determined in the first fight, but the last. If you believe in human ingenuity, grit, irrationality, and consideration, the last fight is the true test of what it means to be human.
Note:  Nothing in this blog is intended as an implied or explicit endorsement of the "Iron Man" or "Terminator" franchises on the part of the Department of Defense, the U.S. Army, or TRADOC.
Kelly McCoy is a U.S. Army strategist officer and a member of the Military Leadership Circle. A blessed husband and proud father, when he has time he is either brewing beer, roasting coffee, or maintaining his blog (Drink Beer; Kill War at: https://medium.com/@DrnkBrKllWr). The views expressed in this article belong to the author alone and do not represent the Department of Defense.