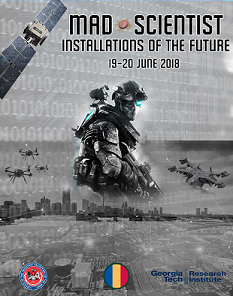 Mad Scientist Laboratory is pleased to announce that Headquarters, U.S. Army Training and Doctrine Command (TRADOC) is co-sponsoring the Mad Scientist Installations of the Future Conference this week (Tuesday and Wednesday, 19-20 June 2018) with the Office of the Assistant Secretary of the Army for Installations, Energy and Environment (OASA (IE&E)) and Georgia Tech Research Institute (GTRI) at GTRI in Atlanta, Georgia.
Plan now to join us virtually as leading scientists, innovators, and scholars from academia, industry, and government gather to discuss:
1) Current and emerging threat vectors facing installations,
2) "Smart city" opportunities born of technology,
3) Logistics and power projection, and
4) Quality of life.
Presentations will be driven by the following research questions:
1) What are the emerging threat vectors capable of targeting installations and what are the implications to the multi-domain fight?
2) How will mission command and the concept of virtual power be enhanced by smart installations?
3) How will other trends such as localized manufacturing, augmented/virtual reality, and artificial intelligence change how Soldiers will train, sustain, and project power from smart installations?
4) What are the big impact quality of life improvements available through smart technologies?
Get ready…
– Review the conference agenda's list of presentations and the associated world-class speakers' biographies here.
– Read our Call for Ideas finalists' submissions here, graciously hosted by our colleagues at Small Wars Journal.
– Read our following blog posts:  Smart Cities and Installations of the Future: Challenges and Opportunities  and Base in a Box.
and Go!
Join us at the conference on-line here via live-streaming audio and video (with interactive chat function), beginning at 0830 EDT on 19 June 2018.
See you all there!