[Editor's Note:  Mad Scientist teamed with the U.S. Army Sergeants Major Academy (SGM-A) at Ft. Bliss, Texas, in executing their annual writing contest for the second year in a row.  Mad Scientist Laboratory is pleased to feature excerpts from four of this year's contest semi-finalist entries — by MSG Donald R. Cullen, MSG Timothy D. Roberts, MSG Jessica Cho, and MSG Johanny Ortega — each addressing a key innovation within the Sustainment warfighting function.  Each of the innovations described could significantly enhance the U.S. Army's ability to maintain combat power and extend Soldier endurance — Read on!]
1. Modified Military Protective Equipment, by MSG Donald R. Cullen 
Proclaimed Mad Scientist Richard G. Kidd IV, Deputy Assistant Secretary of Defense for Environment & Energy Resilience, in his informative Own the Heat: DoD Climate Change Action episode of our The Convergence podcast, discussed how "The U.S. military should prioritize ways to 'own the heat,'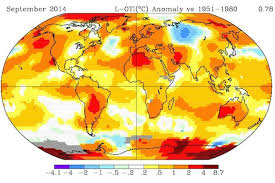 mirroring former initiatives to develop advanced night vision technology. Technology development in this arena will involve creating tactical cooling systems, increasing vehicle performance, developing individual Soldier cooling solutions, and increasing their medical monitoring."
MSG Cullen's submission proposed that the Army modify our Soldiers' Military Protective Equipment to help regulate their core body temperatures and monitor vitals to allow them to move faster and fight longer in extreme temperature environments while also expediting their medical care — essential in maintaining our tactical edge in the Operational Environment.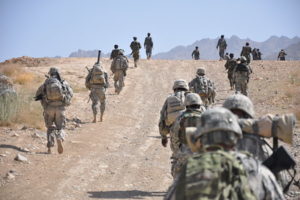 The body's core temperature is vital to a Soldier's ability to function; it is particularly important when operating under extreme conditions. The body's natural ability to regulate core temperature activates when there is a temperature change of plus or minus .2 degrees Celsius. This natural ability is acceptable under normal conditions outside the rigors of combat.  To counter extreme temperature environments associated with combat operations, proposed Military Protective Equipment modifications include integrating a pressurized gel layer to the inside of the Soldier's body armor, the outside of the Advanced Combat Helmet pads, under the armpits, and around their camelback's bladder, which would activate only in the areas where sweat is sensed to provide instant cooling.
When encountering temperatures of over 100 degrees, a small refrigerant pack with coolant could supercharge the gel layers to cool the Soldier and the water in his/her camelback. This refrigerant pack would be placed outside the armor between the camelback and body armor and be contoured so as not to disturb posture when mounted in troop carriers.  Pressurizing the gel compound forces the coolant in and out of the refrigerant pack as Soldiers move or when the body recoils when firing a weapon.  Instant cooling in these situations would reduce the amount of heat the body has to shed by keeping Soldiers cooler while reducing the amount of water intake necessary to keep them hydrated. Soldiers would be able to fight harder, for longer periods before fatigue sets in, giving them an advantage on the battlefield.
In addition to monitoring their temperature, tracking a Soldier's blood pressure, heart rate, and respiration are just as important when operating in environmental extremes. These vitals are measured by simple sensors that can be integrated into their protective equipment.  Wireless integration is key, since sensors will be placed around the Soldier's body to capture and depict vitals accurately. A central receiver would be placed on the Soldier's body armor, with a solar-powered, digital, easy-to-read screen, using red letters for light discipline at night and white letters during the day. 
This receiver would be Soldier-specific and would have a Quick Response (QR) code that medical professionals could scan to pull the individual Soldier's essential medical data (i.e., blood type, age, next of kin, and allergies). This receiver would also be equipped with Bluetooth to receive signals from sensors incorporated in the rest of the uniform.  Gloves are already an essential component for Soldiers in combat, so integrating an infrared sensor to both index fingers could transmit a signal to the central receiver. This sensor would transmit the average heart rate, oxygen saturation, and respiration rate of the Soldier.  Two temperature probes would be integrated into the body armor just inside the Soldiers armpits. Finally, a pressurized sensor at the base of each of the Soldier's gloves would transmit their s active blood pressure to the receiver. This technology would only require minor upgrades to the basic issue items Soldiers already possess, affecting their gloves, body armor, and camelback.
 Read MSG Cullen's comprehensive submission (with references) here.
2. Modernization of the Armed Services Blood Program, by MSG Timothy D. Roberts
Beans, bullets, and blood win wars.  Theater blood and blood products are vital in the resuscitation of battlefield trauma, and equally vital, the medical detachment blood support (MDBS) manages the blood supply within a theater of operations. As the Army looks to the future, it has shifted focus from counter-insurgency operations to large-scale combat operations (LSCO) involving new and emerging threats with similar or superior capabilities to the United States. These peer and near-peer adversaries possess and are proficient in the use of anti-access/area-denial systems, creating contested air space and hindering patient evacuation to higher echelons of care and medical resupply.
To support LSCO, the Army Medical Department should update MDBS capabilities by forward deploying assets and increasing mobility, improving blood product storage and transportation capabilities, extending blood product shelf life, and improving walking blood bank capabilities across the force.
Mobility:  The Army should modify the MDBS unit assemblage by combining the environmental controls needed for blood product storage and manufacturing and mobility requirements. The Army has already begun testing the M1087 Expandable Van Shelter to provide increased mobility for command and control nodes. The MDBS can utilize the M1087 as a replacement for the manpower-intensive tactical shelter and dolly sets to significantly increase MDBS mobility and the valuable blood supply that it provides.
Blood Transportation:  Army medicine must develop a solution to get additional medical supplies and blood to lower echelons of care while contested land and air routes prevent evacuation and traditional resupplies. Advancements in

unmanned aerial vehicles

(UAVs) may provide a solution. The Griff 300 is a UAV with certifications from both the European Aviation Safety Agency and Federal Aviation Administration, with the capability to carry a payload of ~500 pounds with up to 45 minutes of flight time. These payload-carrying UAVs provide a vertical lift capability that can offer emergency resupply with higher accuracy than an airdrop and have a drastically smaller targetable radar signature than modern aircraft. Theoretically, one UAV could provide a complete blood product resupply to lower echelons of care with minimal risk to assigned personnel and provide room for other supplies on flights and convoys.
Extended Shelf Life:  The Army has begun using lyophilized plasma to treat casualties in austere environments far from fixed treatment facilities. Lyophilized blood products are freeze-dried and require reconstitution with saline before transfusion. This procedure lengthens blood expiration dates from days and weeks to months or years and reduces the temperature storage requirement. Medical personal can store the lyophilized blood components on the shelf alongside gauze and other medical supplies, without the additional weight of ice or insulated storage containers. Medical personnel can reconstitute and transfuse the lyophilized blood products at or near the point of injury, increasing the survivability rates of battlefield injuries.
Vampire Blood Program Expansion:  In 2010, the United States Central Command authorized blood product transfusion by flight medics while air ambulance crews medically evacuated patients by helicopter.  A review of the vampire program provided increased survival rates for evacuated patients. AMEDD planners should extend the vampire program protocols to combat medics and ground ambulance crews. The increased training and resources will aid in the treatment and resuscitation of combat casualties when air evacuation is unavailable, or the casualty rates inundate the capacity of air evacuation platforms. The vampire blood program can also support the use of low titer O — whole blood where the donor has a minimal level of antibodies. This product is truly capable of being safely transfused to any patient in need of a transfusion without causing a transfusion reaction.
Read MSG Roberts' comprehensive submission (with references) here.
3. The Use of Renewable Energy to Power Military Vehicles, by MSG Jessica Cho
Logistics services are an integral part of the Joint sustainment function, including the capability to fuel and refuel friendly forces, before, during, or after any specific ground movement. Supply routes in contested areas pose a
significant hazard for all ground convoys, especially for large fuel trucks with their highly combustible loads. Mobile refueling stations amid various military engagements burden Joint Force Commanders with the added risk of potential casualties resulting from fuel tank explosions.
A much different but detrimental aspect of fossil fuels is their impact on the environment. The U.S. military is the largest consumer of petroleum-derived products. As witnessed throughout the years, emitted greenhouse gases (GHGs) have led to a shift in climate, characterized by drought, fires, floods, sea-level rise, and polar ice cap melting.
The proposed solution to decrease GHG emissions and relieve the military's burden of constant fuel re-supply is adopting hybrid or all-electric engines for our vehicle fleet. The concept relies on understanding that the military can benefit from this conversion, far beyond addressing climate change — quieter engines could reduce noise signatures when advancing through enemy territory or when stealth travel is critical.  Electric motors offer a tremendous amount of flexibility and innovation towards Soldier needs, including breaking free from current centralized internal combustion engine models. Instead of having one motor, installing individual power sources to every vehicle's axle would improve load plans and balance weight distribution. Compartmentalizing engine nodes would also facilitate the rapid identification and troubleshooting of a fault, helping to return the vehicle to the fight, and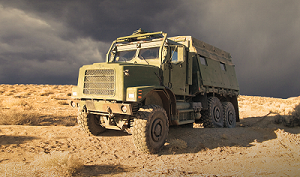 improving an organization's readiness rate. Utilizing a hybrid engine would allow military vehicles to execute longer convoys, especially when stopping may not be an option during contingency operations.
To integrate these innovative measures, the DOD could draft a list of competitive vendors and select an organization to enter the test phase. The chosen unit would stress all given prototypes' capabilities and report the findings at the end of the test period. This phase links to the development and acquisition of the future hybrid or all-electric tactical vehicles. Adopting a greener military means riding the wave of innovation and tapping onto a flourishing market that lures motivated scientists and increases job opportunities.
Read MSG Cho's comprehensive submission (with references) here.
4. The Warehouse of the Future, by MSG Johanny Ortega
Imagine the future. The year is 2035, and drones fly in the sky. A Supply Support Activity (SSA) Soldier prepares high-priority parts for shipment to a forward element and loads them. The drone takes off. The Joint logistic system tracks its route and feeds the information to the awaiting customer, giving them live estimated shipment time across a secured cyber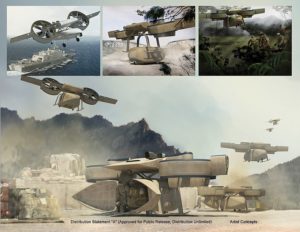 communication link. When it arrives, the drone scans the customer's identification card, validating the receipt. It promptly sends a notification to the SSA that the customer received the part. The customer then verifies it against their requisition to ensure serviceability and correctness. If there are no high-priority retrogrades, the customer dispatches the drone. Before takeoff, the drone submits the customer's part verification receipt, effectively closing the request. Is this science fiction?  No — Amazon is testing and refining a version of this, called Amazon Prime Air.
In combat operations, Commanders seek to extend their operational reach to attain their objective and bring the enemy to its culminating point. However, to reach their objectives, Commanders need endurance which sustainment provides. The critical player in sustainment is the SSA, the hub that receives, issues, stores, and turns in all supply classes. Thus, an archaic warehouse in the Army of 2035 will inhibit the flow of supplies from national providers and depot facilities to the customer. Nevertheless, an outdated warehouse can become ready for the Army of 2035 by looking towards its civilian counterpart to emulate the processes that may work within, adjust the processes that do not, and mitigate potential pitfalls by learning from Amazon's mistakes.
U.S. Special Operations Command (USSOCOM) is looking to exploit technology for logistics operations. Yates Electrospace Corporation announced in a press release a development contract for a cargo drone with USSOCOM. The press release detailed some of this drone's capabilities, including the ability to deliver up to 1,631 pounds of supplies. The Army community knows USSOCOM as a forward-thinking organization. With this first step, they are providing the conventional Army with a way forward to bring disruptive innovation into an archaic process to optimize it.
The future is for those who prepare first. Looking ahead, one can imagine a squad size group of warehouse Soldiers with an additional skill identifier for drone operations. From their location at the Brigade Support Area (BSA), they will load the cargo and dispatch the drone to the combat trains. If the environment allows, they can push supplies as far out as the company trains. The caveat to this method will be similar to aerial resupply—use this asset when U.S. forces and allies have control of the air domain. This asset has immense possibilities during the stability phase of an operation or humanitarian and crisis response.
Read MSG Ortega's comprehensive submission (with references) here.
If you enjoyed this post, check out the winning submission The Dawn of the Loitering Munitions Era by MSG Daniel S. Nasereddine…
… as well as these other posts addressing opportunities for Army innovation:
Keeping the Razor's Edge: 4th PSYOP Group's Innovation and Evolution Council, by the 4th Psychological Operations Group Innovation and Evolution Council
Strategic Latency Unleashed!, Going on the Offensive in the Fight for the Future, and associated podcast
Tactical Innovation: The Missing Piece to Enable Army Futures Command, by LTC Jim Armstrong
The Convergence: The Future of Ground Warfare with COL Scott Shaw and associated podcast
The Convergence: Innovating Innovation with Molly Cain and associated podcast
Dense Urban Hackathon – Virtual Innovation
Blockchain Technology Can Replace Stodgy Bureaucratic Processes by 2035, by LTC James Barnhart
>>>> TAKE OUR SURVEY!!!  Mad Scientist wants your feedback — please take a few minutes to complete our online survey here or via this QR code.  Let us know what specific topics you would like us to explore in FY22 and how we can better serve your needs.  Thank you! 
>>>> REMINDER!!! Army Mad Scientist is CALLING ALL CREATORS with our Multi-Media Contest for imaginative artists who would like to showcase their ideas about future possibilities in alternative ways. For more information, check out our announcement and flyer, then consult your inner muse, unleash your creative talent, get cracking developing your multi-media entry, and submit it to madscitradoc@gmail.com — Deadline for submission is 6 August 2021!

Disclaimer: The views expressed in this blog post do not necessarily reflect those of the Department of Defense, Department of the Army, Army Futures Command (AFC), or Training and Doctrine Command (TRADOC).