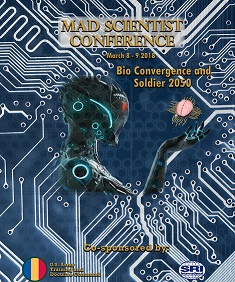 Mad Scientist Laboratory is pleased to announce that Headquarters, U.S. Army Training and Doctrine Command (TRADOC) is co-sponsoring the Bio Convergence and Soldier 2050 Conference this week (Thursday and Friday, 8-9 March 2018) with SRI International in Menlo Park, California.




Plan now to join us virtually as leading scientists, innovators, and scholars from academia, industry, and government gather to discuss how Bio Convergence, Human Enhancement, and the Democratization of Bio Improvements will revolutionize the Future Operational Environment through 2050.
Get ready…
– Review the conference agenda's list of presentations and the associated world-class speakers' biographies here.
– Register here to participate in the associated SciTech Futures Bio Convergence Game and share your ideas on-line about the future, collaborate with (and challenge) other players, and bid on the most compelling concepts in an online marketplace (through 16 March 2018).
– Read our Mad Scientist Soldier 2050 Call for Ideas finalists' submissions here, graciously hosted by our colleagues at Small Wars Journal.
… and Go!
Join us at the conference on-line via live-streaming audio and video (with interactive chat function), beginning at 0840 PST / 1140 EST on Thursday, 08 March 2018.
See you all there!