[Editor's Note:  In a previous episode of Mad Scientist's The Convergence podcast, LTC Joe Byerly observed that "in order to understand the possibilities of the future, you have to connect disparate things and bring them together. Reading broadly and connecting these dots improves strategic thinking." Today's post expands the scope of this observation to include the intellect-broadening power of podcasts. In just two decades, this revolutionary new medium has democratized an individual's ability to reach out and share their ideas around the globe. Crowdsourcing is one of the ways that the Mad Scientist Initiative envisions future possibilities, and podcasts are the individual's ultimate crowdsourcing tool, facilitating access to diverse thoughts and opinions from subject matter experts, on demand, at one's own convenience.  Read on to learn how podcasts can inform us about the Operational Environment and the changing character of warfare!]
"The medium of podcasting and the personal nature of it, the relationship you build with your listeners and the relationship they have with you – they could be just sitting there, chuckling and listening… there's nothing like that" – Mark Maron, writer, podcaster, comedian, and actor
In October 2000, entrepreneur and internet activist Tristan Louis proposed a concept for attaching sound and video files in RSS (Really Simple Syndication). By September 2003, software developer Dave Winer created arguably the first podcast from various interviews with technologists and politicians. Two decades on, there are currently ~850,000 active podcasts with over 30 million episodes. Podcasting has become one of the most influential and disruptive media formats ever.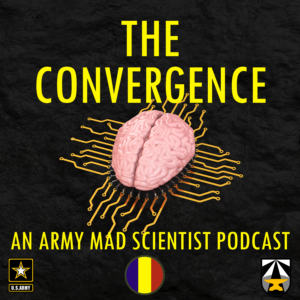 In January 2020, the U.S. Army's Mad Scientist Initiative launched its own podcast, The Convergence, to explore the future of technology, disruptive trends, and the military. Thirty episodes on, we have hosted futurists, innovators, scientists, engineers, best-selling authors, government and military leaders, and even a baseball writer. This wide variety of experts and influencers has allowed us to envision what the future could look like and what kind of Army the United States will need to compete and win in it.
Podcasts can be extremely useful in exploring and thinking about the future. Within a short time period, you can access and digest diverse opinions from various experts around the globe, all on demand, at your convenience. Podcasts about the future address a wide array of subjects affecting the Operational Environment, including economics, demographics, and climate. The following are just of few podcasts that have partnered with or influenced the Mad Scientist Initiative:
1. The MWI (Modern War Institute) Podcast
This podcast from our colleagues at West Point's Modern War Institute features guests including senior military and defense leaders, scholars, and others who discuss the most important issues related to modern conflict. The MWI Podcast has featured a number of proclaimed Mad Scientists, including World War Z author Max Brooks, Deputy Secretary of Defense Bob Work, autonomy and robotics expert and author Paul Scharre, and China expert Elsa Kania. The MWI Podcast was the inspiration and launch point for our own podcast, The Convergence. MWI also has several spin-off podcasts focused on combat experience and specialized warfare:  The Spear, Irregular Warfare Podcast, and Urban Warfare Project Podcast.

2. U.S. Army DEVCOM – In the Lab Podcast
This podcast from the Army Futures Command's DEVCOM (the overarching command for Army laboratories) explores the latest trends in U.S. Army technology research and development. Each episode introduces a new topic, technology, and the people behind these capabilities. Topics have ranged from cyborg soldiers to detecting COVID-19 with canines.
3. Wall Street Journal – The Future of Everything
A podcast launched by award-winning journalists at the Wall Street Journal that takes an in-depth look at how science and technology are revolutionizing the way we live, work, play — and fight!  This podcast has featured episodes on cyber warfare, the next battlefield,  and the future of Artificial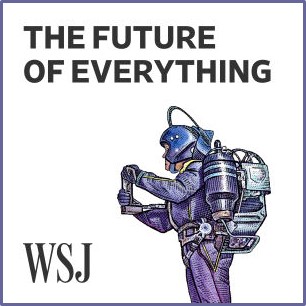 Intelligence (AI). WSJ records live episodes of the podcast at The Future of Everything festival with three days of unscripted interviews and interactive workshops. This year's events will feature the co-founder and CEO of Strava Michael Horvath, NBA star and entrepreneur Dwayne Wade, actress and entrepreneur Gabrielle Union, and Poshmark CEO and Founder Manish Chandra.
4. MIT Technology Review – In Machines We Trust Podcast
Launched by the previous host of WSJ's Future of Everything, Jennifer Strong, In Machines We Trust is a podcast about the automation of everything. This show explores what it means to entrust AI with our most sensitive decisions. Previous episodes have covered injustice through algorithms, ethics in self-driving cars, property rights of individual faces, and more. In a December 2020 episode, the show hosted former AI ethics researcher Dr. Timnit Gebru to discuss her forced exit from Google, the state of the AI field, and increasing corporate accountability in disruptive technologies.

5. The Lex Fridman Podcast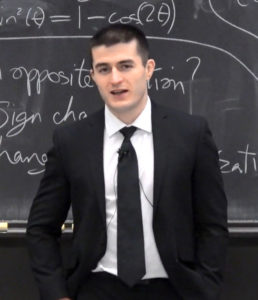 MIT AI researcher Lex Fridman turned his AI-focused podcast into one that spans across sciences, theory, and societal trends. Lex asks intriguing questions of his guests and his conversations have addressed everything from black holes to brain-computer interfaces. Some of his more high profile guests have been Elon Musk, Max Tegmark, Richard Dawkins, Simon Sinek, Jack Dorsey, and Garry Kasparov.
6. Future Insiders Podcast with Cathy Hackl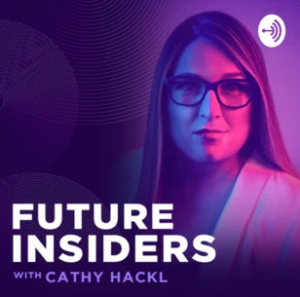 The Future Insiders Podcast is all about the future of tech, business, and humanity.  Cathy Hackl is a leading futurist in tech. She previously worked for Amazon Web Services, Oculus, and HTC as an expert in virtual and augmented reality. The podcast discusses the latest news from the world of emerging tech and features the insiders who are making it happen.
7. A Better Peace: The War Room Podcast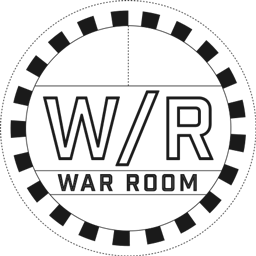 The U.S. Army War College's The War Room Podcast features provocative discussions about U.S. national security and defense issues, with prominent national security and military professionals. The podcast has addressed a wide range of topics — from nuclear doctrine to understanding other cultures — and has featured special series on great strategists, leader perspectives, and wargaming.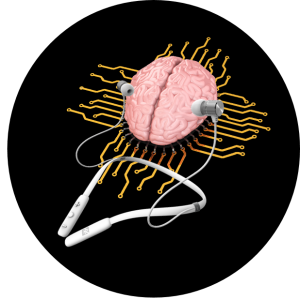 In our most recent episode of The Convergence, COL Scott Shaw observed "if you are not listening to podcasts, then you're probably not exposing yourself to a lot of ideas that are out there…. There are a lot of podcasts out there that are great."  While some are more conversational and others resemble short form documentaries or exposés, they all offer glimpses into the future that can spark conversation and engagement.  Mad Scientist Initiative's The Convergence is released every other Thursday and we have an exciting line-up of future guests including a Hollywood sci-fi producer, a New York Times bestselling author, and a senior Pentagon official — Stay tuned!
If you enjoyed this post, check out the following The Convergence episodes of interest:
The Convergence: The Future of Ground Warfare with COL Scott Shaw and associated podcast
The Convergence: Hybrid Threats and Liminal Warfare with Dr. David Kilcullen and associated podcast
The Convergence: Disinformation, Revisionism, and China with Doowan Lee and associated podcast
The Convergence: Bringing AI to the Joint Force and associated podcast
The Convergence: Reading and Leading in the Future with LTC Joe Byerly and associated podcast
Disclaimer: The views expressed in this blog post do not necessarily reflect those of the Department of Defense, Department of the Army, Army Futures Command (AFC), or Training and Doctrine Command (TRADOC). Additionally, this post neither intends nor implies any endorsement for the referenced non-USG podcasts.