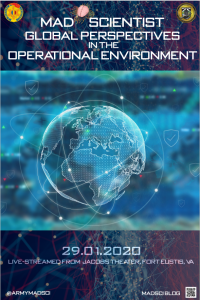 In our on-going effort to broaden our aperture on the Operational Environment (OE), the U.S. Army's Mad Scientist Initiative is co-hosting the Global Perspectives in the Operational Environment Virtual Conference with the Army Futures Command (AFC) and the U.S. Army Training and Doctrine Command (TRADOC) International Army Programs Directorate (IAPD) this Wednesday, 29 January 2020.
Recognizing that future engagements are likely be fought within a larger coalition of allied and partner nations, Mad Scientist appreciates the fact that we must understand diverse, international perspectives regarding the OE and the changing character of war.  This is fundamental to our continued ability to successfully conduct future military operations together and to preclude us from falling victim to our own confirmation biases, risking total surprise by something lurking just over the horizon, beyond our own line of sight!
Working with TRADOC's Foreign Liaison Officer community, Mad Scientist has invited international subject matter experts to present their respective nations' perspectives on a diverse array of topics affecting the OE — check out the conference agenda here!
Mark your calendar now and plan on joining us at the conference on-line via live-streaming audio and video at www.tradoc.army.mil/watch, starting at 0830 EST this Wednesday, 29 January 2020. You can participate in the conference by submitting your questions and comments via this site's moderated interactive chat room and follow along on Twitter @ArmyMadSci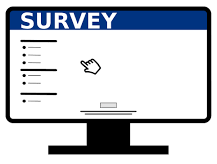 In conjunction with this conference, Mad Scientist is conducting an on-line survey querying your thoughts about the OE. If you are one of the hundreds of individuals that have already completed this survey — please accept our hearty "Thank you!"  If you haven't had a chance to do so yet — no worries!  Please take about 5 minutes to complete this short survey here — we want to capture your unique thoughts and insights to help expand the U.S. Army's understanding of the OE!
Note that we will provide a Survey Quick Look of our preliminary findings at the outset of Wednesday's conference, so don't miss out!
… and stay tuned to future blog posts on the Mad Scientist Laboratory to learn what insights we will have gleaned from this conference and survey regarding what the international community is thinking about potential OE trends, challenges, technologies, and disruptors.