[Editor's Note: Mad Scientist Laboratory is pleased to publish today's post by returning guest blogger and proclaimed Mad Scientist Marie Murphy, exploring the evolving role of nation-states in an increasingly multipolar world. While nations-states will persevere as the primary actors in the international system for the foreseeable future, their dominion will increasingly be challenged by the growing wealth and influence of multi-national corporations (MNCs) and the emergence of on-line communities of interest coalescing beyond traditional concepts of nationality and fidelity. Given the resultant diffusion of power and allegiance, the dynamics of competition and conflict may well morph beyond our current concepts of allies, strategic competitors, and large scale combat operations.  Ms. Murphy posits two scenarios and then explores the associated ramifications of this evolving power dynamic for the U.S. Army — Enjoy!]
It's a human fallacy to believe that things in the present have always been and always will be.1  Of course, history books confirm that this is not the case, but it is difficult to imagine living in a world other than the one we've adjusted to today.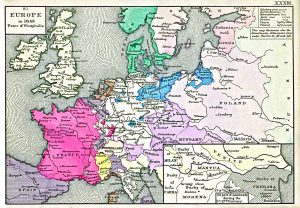 We are all familiar with the current structure of international power, but nation-states as we know them are a relatively new concept. The "official" creation date for what is considered the modern nation-state is often pinned at the Peace of Westphalia in 1648.2  However, it wasn't until the end of WWII and the subsequent redefining of territory in Africa and the Middle East that the modern map began to appear. The fall of the USSR in 1991 redrew the map again, adding new states in Eastern Europe, the
Caucasus, and Central Asia. These major shifts occurred within the lifetimes of people today, demonstrating that the current world order is anything but set in stone.
There are several emerging factors which may come to threaten the recent primacy of the nation-state in the distribution of global power as it currently stands, including the resurgence of multi-national corporations (MNCs) and the proliferation of online organizations, both aided by the technological advances of the 21st century. MNCs and online organizations connect people around the world and transcend national boundaries. They are capable of amassing capital and influence comparable to that of some nation-states, creating a potential shift in global power dynamics. For example, in 2018, Amazon topped $1 Trillion in value, placing it 17th in the world amongst nation-states in terms of GDP.3
Today, MNCs such as Apple and Amazon rely on global stability to maintain optimal operations. Conflicts affect companies by threatening the interruption or loss of crucial supply chains and the diversion of workers. Due to these potential disruptions, MNCs may have an interest in discouraging, reducing, and restricting conflict and some have the capital to attempt to do so. On the other hand, not all corporate intervention in conflict spaces could prove benevolent. Companies could partner with competing parties in a conflict or further exacerbate divisions by involving their own private security forces. The consequences of kinetic intervention by MNCs may prove detrimental, especially if it disrupts the production and distribution of critical natural resources or the economic livelihoods of the local population that depend on its peaceful presence.4  As the global influence of MNCs rises, the U.S. Army may face questions such as: Could conflict that poses a potential disruption to private industry be mitigated by that industry? Could industry be a major player in conflict zones?
The potential rise of individual allegiances and ideologies beginning to align more with virtual communities, which do not recognize international borders, may start to erode the cultural and political bonds of a nation-state. One example of a diverse online community is Facebook, which currently stands as a platform for like-minded people to join groups and pages according to their personal interests.
But could this be taken to the next level? Facebook recently announced the potential launch of its own digital currency. While many consider this technology to be ahead of its time, and definitely ahead of regulatory standards, it may be a signal that online entities will be capable of encroaching upon what has historically been a governmental responsibility.5  As online organizations develop and proliferate, questions pertinent to national defense begin to emerge, including: Could a nation suffering from ideological dissolution still field a physical army? Could an online organization with multinational membership present a cyber threat to armed forces around the world? Could an online community create its own army not based on geography and borders, but on shared belief?
So, where do these current and potential developments leave nation-states? I have chosen to highlight two possible future scenarios which may emerge from the rising influence of MNCs and online organizations: a multipolar power distribution and a devolving status quo.
The world may be evolving into a multipolar system comprised of different nodes of power; where nation-states, MNCs, and online organizations operate on a more even global playing field. MNCs may begin to leverage their high levels of capital, resources, and influence to impact international and military affairs
beyond the oversight of a government. A company's entrenchment in a region or domain where conflict is developing may be sufficient grounds for direct involvement. If the company exerts more power than the government in that area, it may take on the roles and responsibilities of either mitigating or managing that conflict, possibly including the use of private forces or the co-opting of the legitimate military. Large and diverse online organizations begin to fray the social fabric of established nation-states as citizens' lives increasingly move and are lived online. These organizations may develop the social organizational capacity that governments used to exclusively possess; the ability to coordinate the mass movement or participation of a large number of people or to control society in other ways, such as holding and managing their currency. In this scenario, nation-states play a somewhat diminished role as what used to be exclusively state-held power is now dispersed among various relevant international organizations.
Alternatively, nation-states may continue to hold the majority of global power, but the massive capital and influence of MNCs and online organizations could grow to become at odds with governments and these groups may vie for a seat at the table. A devolved version of the present may manifest in the event of increased isolationism as large companies lobby their governments to do business worldwide while leaders prefer more domestically focused economic thinking.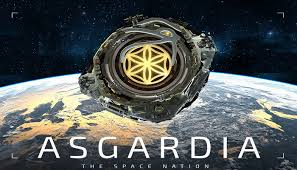 Online organizations may overtake governments in cultural leadership, leaving governments to be little more than administrative units while citizens who live next door to each other have allegiances to groups and organizations formed from people from all over the world. These online groups may eventually take on governmental responsibilities as well (such as taxation used to provide services) and have the capability to incite mass mobility at a moment's notice.
Combatting these potential changes in the international balance of power poses new challenges for the Army. Either of these scenarios could alter ally/competitor relationships. Alliances might shift due to either economic interests or ideological priorities. Such considerations may supersede geostrategic factors in a historically symbiotic alliance. The need for American protection and military assistance might not be as great if current power competitors no longer hold that same power or demonstrate a shift in interests.
An evolving power dynamic would alter the way that the Army thinks about its concepts and structures its force. In the future, MNCs may be "another player on the field," both domestically through lobbying and political influence and in theater due to their operations or investments on the ground. This entanglement of military objectives and private industry interests may demand greater consideration as corporations continue to drive economic development and
growth worldwide. Online organizations may divert critical human resources away from patriotic causes towards ones that fulfill specific personal ideologies which may not align with the Nation and the Army. Based on economic and technological advancements, the Army may find itself with different established allies and in the company of states and organizations whose interests and capabilities temporarily align with the U.S. The role of a nation-state in the global order may be evolving as other powerful players come to the table. Whether or not these players will be integrated, or are too big not to be, is yet to be seen.
If you enjoyed this post, please see:
– Virtual Nations: An Emerging Supranational Cyber Trend, also by Marie Murphy
– Splinternets, by Howard Simkin
– Alternet: What Happens When the Internet is No Longer Trusted? by LtCol Jennifer "JJ" Snow
Proclaimed Mad Scientist Marie Murphy is a senior at The College of William and Mary in Virginia, studying International Relations and Arabic. She is a regular contributor to the Mad Scientist Laboratory, interned at Headquarters, U.S. Army Training and Doctrine Command (TRADOC) with the Mad Scientist Initiative during the summer of 2018, and is currently serving as a Mad Scientist Initiative consultant. She was a Research Fellow for William and Mary's Project on International Peace and Security.
Disclaimer: The views expressed in this article do not imply endorsement by the U.S. Army Training and Doctrine Command, the Army Futures Command, the U.S. Army, the Department of Defense, or the U.S. Government. This piece is meant to be thought-provoking and does not reflect the current position of the U.S. Army.
---
1 Bartlett, Jamie. "Return of the City-State," Aeon, September 5, 2017. https://aeon.co/essays/the-end-of-a-world-of-nation-states-may-be-upon-us
2 "Peace of Westphalia (1648)," Oxford University Press. https://www.oxfordbibliographies.com/view/document/obo-9780199743292/obo-9780199743292-0073.xml
3 "Gross Domestic Product 2018," World Bank, 2018. https://databank.worldbank.org/data/download/GDP.pdf
Streitfield, David. "Amazon Hits $1,000,000,000,000 in Value, Following Apple," The New York Times, Sept. 4, 2018. https://www.nytimes.com/2018/09/04/technology/amazon-stock-price-1-trillion-value.html
4 Humphreys, Macartan. "Economics and Violent Conflict," Harvard University, 2003. https://www.unicef.org/socialpolicy/files/Economics_and_Violent_Conflict.pdf
5 Sprouse, William. "Facebook Says Libra Digital Currency May Never Launch," CFO, July 30, 2019. https://www.cfo.com/regulation/2019/07/facebook-says-libra-digital-currency-may-never-launch/