Due to the on-going COVID-19 Global Pandemic and the associated constraints on large gatherings and travel, the U.S. Army's Mad Scientist Initiative is facilitating a series of on-line Weaponized Information events that will culminate in a one-day virtual conference on 21 July 2020. Co-sponsored by our academic partners at Georgetown University and The Center for Advanced Red Teaming, University at Albany, State University of New York, these Weaponized Information collaborative events will feature participation from the Intelligence Community, Center for a New American Security, New America, The RAND Corporation, DARPA, the Department of State, and The Athletic.
The first event in this series, a webinar featuring Vincent H. O'Neil discussing The Information Disruption Industry and the Operational Environment of the Future, was presented last Wednesday, 20 May 2020.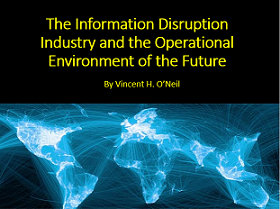 If you missed it, no worries! You can check out Mr. O'Neil's biography (1.11), read his slide presentation (1.12), watch the video of his presentation (1.13), and review our notes from his presentation (1.14) on our Weaponized Information page at our Mad Scientist All Partners Access Network (APAN) site — just click here!  You can also read his guest blog post on this topic here.
Upcoming Mad Scientist Weaponized Information Virtual Events include:
27 May 2020:  A Proclaimed Mad Scientist double feature, with Pete Singer presenting Weaponization of Social Media, and August Cole presenting Fictional Intelligence (FICINT). In order to participate in this virtual event, you must first register here [via a non-DoD network]. Registration is limited, so sign up now!
3 June 2020:  Dr. Marek Posard and Dr. Christopher Paul, The RAND Corporation, present AI and Manufacturing Reality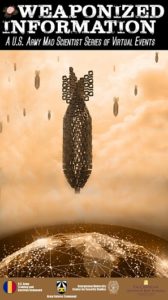 11 June 2020:  "The Convergence" podcast featuring an interview with Cindy Otis, former CIA officer, national security commentator, disinformation and cybersecurity expert, and author of TRUE OR FALSE: A CIA ANALYST'S GUIDE TO SPOTTING FAKE NEWS
17 June 2020: Georgetown University Student Panels on How ISIS uses Social Media in Saudi Arabia and The Effects of De-platforming Bad Actors
1 July 2020: A wargame vignette — Exploiting a Natural Disaster in Southeast Asia — facilitated by Dr. Gary Ackerman, The Center for Advanced Red Teaming, University at Albany, SUNY, with crowdsourced participation
1 July 2020:  Deadline to submit your Information Warfare Vignettes! Review submission guidelines on our flyer here, then craft and submit your most innovative and insightful visions of information warfare to us at: MADSCITRADOC@gmail.com. The winner of our writing contest will be invited to present at our virtual conference on 21 July 2020!
15 July 2020:  Georgetown University event (TBD)

21 July 2020:  Our capstone Mad Scientist Weaponized Information Virtual Conference (0900 to 1530 EDT) — check out the draft agenda here.
Take some time to explore the convergence of technologies that facilitate information weaponization in The Information Environment: Competition and Conflict – A Mad Scientist Laboratory Anthology — a primer for our Weaponized Information Virtual Events.
It's going to be an eventful and informative Spring / Summer 2020, so mark your calendars now and plan on joining us for each of these events!