[Editor's Note: Headquarters, U.S. Army Training and Doctrine Command (TRADOC) co-sponsored the Mad Scientist Disruption and the Operational Environment Conference with the Cockrell School of Engineering at The University of Texas at Austin and the U.S. Army Futures Command (AFC) on 24-25 April 2019 in Austin, Texas. World-class presenters addressed robotics, artificial intelligence (AI) and autonomy, the future of space, planetary habitability, and the legal and ethical dilemmas surrounding how these disruptive technologies will impact the future of warfare, specifically in the land and space domains.  The following post captures the Mad Scientist Initiative's "top ten" takeaways from this conference.]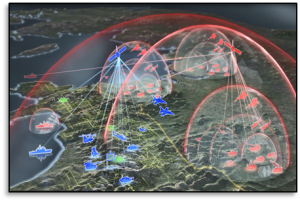 1) The Army is having an "Own the Night" moment. It has the opportunity to gain a competitive advantage over adversaries who have spent large amounts of capital and effort on gaining overmatch in niche areas like Anti Access/Area Denial (A2/AD) and anti-tank capabilities. The Army can "Own Unmanned and Autonomous Warfare." There is a sweet spot in man-machine teaming that can limit vulnerabilities and strengthen cognition, awareness, and proficiency in dense urban environments.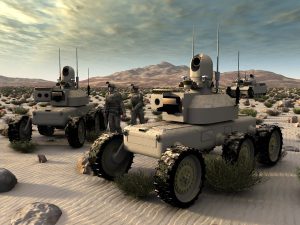 2) Setting norms in AI/autonomy may accelerate development as researchers and programmers have defined left and right boundaries. Currently, uncertainty and lack of clarity are causing delays and trepidation in their development. If the DoD establishes the absolute boundaries of its AI and autonomy policies, it can streamline R&D, S&T, and acquisition / modernization. However, setting firm left and right boundaries does present some risk — with reduced development and asymmetry in adversarial AI development and implementation.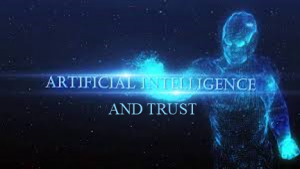 3) Artificial Intelligence and Trust. Successfully incorporating AI into Army formations to gain and maintain competitive advantage over adversaries in an increasingly contested OE will require bridging the gap between AI and humans by establishing trust. A true man-machine relationship plays a critical component in this process. Professional Military Education should improve tech literacy in the areas of AI, robotics, and autonomy, and introduce critical thinking earlier, producing an officer corps that can interact with AI decision-making tools and understand its limitations and vulnerabilities.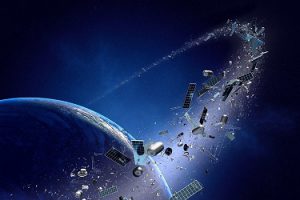 4) The Increased Crowding of Space will Create Operational Challenges for the US Army: A maneuver Brigade Combat Team has over 2,500 pieces of equipment dependent on space-based assets for Positioning, Navigation, and Timing (PNT) and Low Earth Space is cluttered with satellites, debris, and thousands of pieces of refuse. This is worsened by a growing space community with over 90 spacefaring countries and companies such as Amazon, Google, and Alibaba racing to capitalize on a potential space boom in the 2020s. The U.S. military will need to determine how to operate in space amongst increasing traffic and potentially non-attributable nefarious space tampering and attack where total space visibility and situational awareness is not possible.
5) Technology forecasting helps us understand what is probable, but with proper planning based on this insight, we can begin to determine what is necessary and influence development and investment. This must be partnered with an agile procurement process that can rapidly adjust to changing technological circumstances, rather than continue to spend money on near-obsolete multi-year exquisite platforms.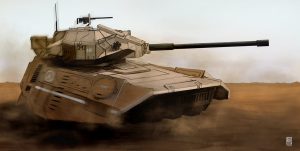 6) Scaling up technology in the military may necessitate a change to the ways in which they are developed. The rapidity of technological advancement may force development of whole systems – counter to current acquisition processes – rather than individual technology segments.
7) Disposable versus Exquisite: Current thinking espouses technologically advanced and expensive weapons platforms over disposable ones, which brings with it an aversion to employ these exquisite platforms in contested domains and an inability to rapidly reconstitute them. In large-scale ground combat operations with a peer competitor, the ability to reconstitute will be imperative. The Army (and larger DoD) may need to shift away from large and expensive systems to cheap, scalable, and potentially even disposable unmanned systems.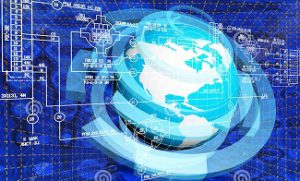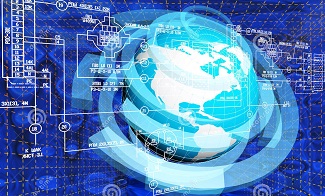 8) Leveraging Allies in Fielding Future Technology:  International Joint projects with our allies have benefits in cost-sharing, interoperability, and fostering cultural diversity in the development of crucial, complex technologies. Just as NASA collaborated with a variety of international partners for its Europa Clipper mission, so to could the U.S. Army when it comes to AI and autonomous warfare, as well as quantum information sciences, hypersonics, and directed energy weapons.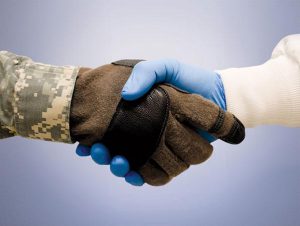 9) The Army should expand its learning beyond past combat actions and open
the aperture to lessons learned from organizations outside DoD. The current Army Learning Enterprise captures important information from exercises and combat operations, but doesn't include research from civilian organizations. NASA's experience with degraded communications during the Mars Rover mission and robotic disaster relief during the Fukushima cleanup and Hurricane Harvey are incredible resources for Army capability developers, organization designers, and Leaders developing techniques and procedures for technology integration to mine and apply to force modernization efforts. The Army should aggressively pursue and incorporate lessons learned from non-DoD agencies and industry regarding disruptive technologies that have direct military implications.
10) The Changing Nature of Information Warfare: The prevalent and growing presence of fake news, data, and information, coupled with deep fakes, hyperconnectivity, and global economic intertwining changes the nature of conventional information warfare. This new era of information warfare will require increasingly potent algorithms to recognize and defend against false and transfigured information while leveraging the strength of human-tech partnerships in all domains to portray an accurate and trusted common operational picture.
If you would like to learn more about this conference, the agenda and biographies of each of the presenters are here on the Mad Scientist APAN site, while videos of each of the conference presentations can be viewed here on the TRADOC G-2 OE Enterprise YouTube Channel…
… and stay tuned to the Mad Scientist Laboratory — the Mad Scientist Disruption and the Operational Environment Final Report will be published in about two months' time!